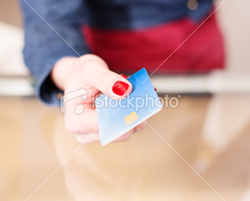 A business that does not accept credit cards can lose up to 80% on impulse buys.
Toronto, Ontario, Canada (PRWEB) May 02, 2014
2013 - the age of instant gratification - a small business merchant's dream! When Canadian shoppers have their credit card in hand they are likely to spend far more than planned.
How much more? A recent report found that consumers are likely to spend 100% more when instructed to pay with a credit card, according to Parry Rosenberg, Vice President of Sales and Marketing at MONEXgroup.
"Many Canadian small business merchants accept debit card payment, but still do not provide the option to accept credit card payments. WHY?" questions Rosenberg, "by not having the option to accept both debit and credit cards on your terminal – you're simply saying you do not wish to make more money."
In fact, according to the study, a business that does not accept credit cards can lose up to 80% on impulse buys. Every business owner has the choice of accepting credit cards and those who recognize the positives of doing so will reap the benefits – those that do not, will flat-line.
MONEXgroup offers terminals that accept both debit and credit cards, allowing businesses to skyrocket and customers to feel satisfied by having the choice and flexibility in their payment method for that little indulgence. As a business owner - take solace in having a reliable, low-cost, stress free payment processor that stays on the cutting edge of technology and industry trends to ensure your business always reaches its full potential.
Monexgroup is #1 Ranked payment processing provider in Canada offering the lowest rates in the industry. Our services include: debit card and credit card point-of-sale (pos) terminals, mobile, integrated and e-commerce online payment products. MONEXgroup serves over 20,000 merchant accounts across Canada in all market segments including: restaurants, business-to-business, professional services, leisure and hospitality.
Holly Murray
MONEXgroup
Marketing Communications
HMurray(at)MonexGroup(dot)com
T: 647 204 0197
http://www.monexgroup.com