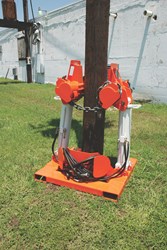 Waco, Texas (PRWEB) October 30, 2013
LineWise introduces two Pole Puller models, giving electric utility crews a faster and safer method for pole removal. The pole pullers provide a simplified solution that reduces the chance of equipment damage or worker injury associated with other pole pulling devices.
The PP-60-XHD pole puller delivers more than 125,000 pounds of pulling force and can handle poles up to 26 inches in diameter. The 1,500-pound unit utilizes two hydraulic cylinders, each featuring a cam action head with beveled teeth to effectively grip the pole. A set of chains holds the cam heads together during the pulling process. As the cylinders push upward, the cam heads rotate, the teeth dig into the pole and lift it. The cylinder stroke is 24 inches — compared to 15 inches on other pullers — enabling crews to efficiently pull out a pole in fewer cycles. Additionally, the dual cylinder design causes less damage to poles than other pullers, allowing some poles to be re-used.
The PP-30-HD pole puller provides 60,000 pounds of pulling force and can be used on poles up to 18 inches in diameter. The 700-pound puller uses two hydraulic cylinders — also with a cam action head and beveled teeth — and matches the 24-inch cylinder stroke offered by the PP-60-XHD. Both models feature holding valves to prevent the cylinders from drifting down while under load.
Field-tested and approved by transmission and distribution maintenance professionals, the pole pullers are operated using the controls on a hydraulic power source such as a skid steer, crane or derrick. Each unit requires hydraulic flow of 5 to 15 gallons per minute at 2,500 psi. The pullers feature multiple lifting points for easy positioning by crane or skid steer.
Development of the pole pullers was initiated through a request from a leading electrical utility company, with the product concept derived from actual line crews in the field.
LineWise is a division of Diversified Products. The company designs, engineers and manufactures a full line of utility products, including line lifters, insulated work platforms, man baskets and pole pullers. For more information, contact Diversified Product Development, 1001 Webster Avenue, Waco, Texas 76706, phone 254-757-1177, fax 254-757-1188, or visit the website at http://www.diversifiedproduct.com.