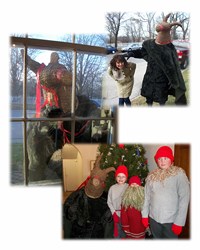 St. Louis, MO (PRWEB) October 30, 2013
Bishop Hill was founded in 1846 by a group of Swedish religious dissenters whose beliefs conflicted with the state church in Sweden and led to the imprisonment of their leader, Erik Jansson. Pooling their resources in a common treasury Jansson and his followers immigrated to the U.S. and settled in Illinois to establish their own community.
Julmarknad (Christmas Market) is the first festive holiday suggestion for a new holiday experience. Julmarknad is reminiscent of a medieval Scandinavian market featuring local artisan's handcrafted wares. The specialty shops are filled with handmade items, antiques, folk art, and more from 10 a.m. to 5 p.m. A true hijinks filled experience awaits visitors in Bishop Hill during the holiday weekend. Tourists will meet tomten (Swedish elves) whom are somewhat mischievous fellows in little red hats, roaming through town shaking hands with tourists, looking through windows, and peeking around corners. Watch out for the Julbock, the Christmas goat. He is even more mischievous and may jump out from behind a tree and scare visitors.
Enjoy the Christmas Cookie Walk on November 29 and 30 at the Colony School where visitors can also buy homemade goods by the pound. Selling begins at 9 a.m. and ends at 4 p.m. On December 8 and 9 Chocolate lovers will want to visit the Bishop Hill Welcome Center from 10 a.m. to 5 p.m. and purchase your holiday chocolate treats by the pound.
Experience the National Historic Landmark, Bishop Hill, during a winter's holiday Lucia Nights Celebration December 13 and 14. It is a celebration of St. Lucia, one of Sweden's Patron Saints, who is a symbol of light, marking the return of lighter days. Bishop Hill glows with luminary lined sidewalks and candle lit windows in honor of St. Lucia. The Swedish tradition is the eldest daughter in the family will get up very early dress in a white gown, red sash, and a crown of candles and serve Lucia buns and coffee to her family.
The opening of Lucia Nights is marked with the lighting of the park Christmas tree and caroling around the tree. Musical melodies fill the air each night in the village's historic buildings showcasing area entertainers. Lucia's will be in each business and museum serving treats. Shops and historic buildings are open throughout both days and evenings. Feel like dancing? Grab a partner and join in the barn dance held at the Old Colony School. Village restaurants and organizations offer specials during the evening celebration. Lucia Nights offer a magical enchanted holiday evening to remember.
Bishop Hill is located 150 southwest of Chicago and 20 miles east of I-74 in Henry County, IL. For more information call 309-761-8473. Visit Henry County, Illinois Tourism Bureau on the web at http://www.visithenrycounty.com.