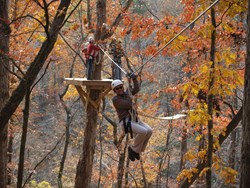 Whitesburg, GA (PRWEB) October 30, 2013
This year, make leaf watching a more exciting experience and get a true bird's eye view of foliage while zipping through the tree top canopies.
Historic Banning Mills, an incredible outdoor adventure park, located a mere 45 minutes west of Atlanta, boasts year-round outdoor adventure in addition to a scenic environment perfect for a fall getaway. Guests who visit Historic Banning Mills can take advantage of various views of fall foliage and witness the changing of the seasons first-hand through its unmatched zip line and eco canopy tours, hiking trails, kayaking, horseback riding, and a plethora of additional outdoor adventures.
View from above – At Historic Banning Mills, there are miles and miles of high-flying adventures on the World's Longest Zip-Wire Course that will take you over the trees and through the woods. You will find yourself in a rare position looking down upon the leaves that are donning a new fall wardrobe while zip lining. Also, visitors to the adventure park will have the chance to experience the newest zip line, The Amazing Flight of the Falcon, where riders are "Super-hero Style," (face-down) looking directly at the breathtaking views and colors that lie below.
View from below – Historic Banning Mills also has close to 250 acres for guests to hike around and at least 50 to 60 percent of it can be accessed through their private trail systems. These trails are not open to the public, so the guests of Banning Mills will have a special experience to become one with nature. Hike along Snake Creek, explore the ruins of the paper mill, and walk on actual water raceways. Trails range from mild to moderately strenuous and guests who choose to explore will receive a map of the best sites to hit along the way.
View from within – Guests who prefer a more up-close and personal experience will enjoy swinging, balancing and stumbling their way from tree to tree in the Eco-Canopy Tour that offers a variety of ropes courses. This experience, along with being extremely exhilarating, is also a good way to see details that are not visible to the eyes on the ground or from above. New to Historic Banning Mills are the tree house accommodations that provide a way for guests to stay up and in the trees surrounded by the foliage.
Historic Banning Mills also offers comfy cottages, rustic cabins and a cozy country Inn on-site. Many accommodations include personal fireplaces and an in-room hot tub for guests to warm up with after spending the day in the crisp air. Guests are encouraged to stay for a weekend and really make the best out of their fall getaway.
http://www.historicbanningmills.com.
Historic Banning Mills Adventure, Retreat and Conservation Center is located in the beautiful Snake Creek Gorge in Carroll County, Georgia, and is approximately 19 miles south of Douglasville and 45 minutes west of Atlanta's Hartsfield-Jackson airport. Historic Banning Mills is a non-profit conservancy. Proceeds from the retreat and adventure treks are used to subsidize the educational, leadership and conservancy programs. Historic Banning Mills is home to the World's Tallest Free-Standing Climbing Wall and world's largest continuous zipline eco-canopy tour. Visitors will enjoy over 7.5 miles of ziplines, tree traverse elements, tree platforms and tree houses. Historic Banning Mills also has various lodging options, including a lodge, Bed and Breakfast and an RV and Camping Park located in Snake Creek Gorge. There are a variety of tours and outdoor adventures for all outdoor enthusiasts at Historic Banning Mills. For additional information, reservations or lodging options, please visit http://www.historicbanningmills.com or call 770-834-9149.