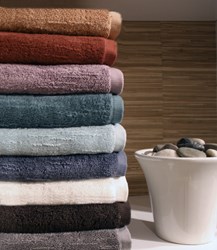 Portico is continually committed to making superior products that meet the styling standards of the consumer, while outperforming even traditional sustainability principles. Our customers deserve nothing less," Marci Zaroff, President of Portico Brands
(PRWEB) October 29, 2013
Hilco Brands, LLC today announced the official launch of its recently acquired home and hotel furnishing leader, Portico, coming soon at better destination retail stores. The well-known brand, featured in Hyatt Hotels nationwide, continues to offer environmentally responsible products that designers and decorators have loved since 1988, which are now made according to even more rigorous sustainability standards—a "zero tolerance" of harmful chemicals, using only ecological-friendly manufacturing methods. These environmental ethical principles continue to drive innovation with no compromise to style, quality, or fine craftsmanship.
"The unfortunate garment factory collapse in Bangladesh earlier this year is yet another reminder to the world that manufactures should be striving for more environmentally and socially sound practices, not only for the safety of their workers but for the safety of all. Portico is continually committed to making superior products that meet the styling standards of the consumer, while outperforming even traditional sustainability principles. Our customers deserve nothing less," said Marci Zaroff, Portico Brands President and Chief Marketing & Sustainability Officer.
Customers can trust Portico's promise, "inspired by nature, crafted by integrity," as the lifestyle brand moves forward with products designed for the consciously-minded consumer, whose styling choices reflect a more relaxed and modern tone—simple lines, a livable classic color palette, textured patterns derived from nature and embroidered accents. Shifts to a more sustainable product do not prevent the company from offering what they are known for—luxurious timeless collections for home and hotel such as furnishings, linen textiles, modern apparel and natural beauty and spa products.
Opening its flagship SoHo store in the flatiron in Manhattan in 1992, Portico continues to appeal to consumers, now through its ecommerce site and soon (Nov 2013) through select Dillard's stores nationwide. Just in time for the holidays, Portico hopes to inspire consumers to buy organic and natural products that support authentic growing and sewing standards by offering an alternative to other brands.
About Portico Brands
Portico has been a leading lifestyle brand since 1988. Inspiring decorators, designers, and consumers through its first Bed & Bath stores in Manhattan, they continue the trend through a more eco-friendly mission and socially responsible business model. Portico Brands, also including "Under the Canopy" and "FASE", is now owned by Hilco Global LLC. To learn more about Portico Brands collection of lifestyle products, visit http://www.porticobrandsgroup.com.