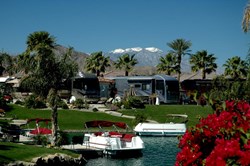 Our most recent privacy lot will be a place of respite and fun for all of our Canadian and American families who love the finest in life's joy. - Peter & Tracy Bissonnette, Motorcoach Country Club Residents
Indio, CA (PRWEB) October 29, 2013
More than just the weather, Canadian travelers are enjoying the luxurious and leisure lifestyle Motorcoach Country Club offers its residents. The impact on the local economy is a boost in luxury home sales from turn-key extravagance to local contractors and developers hired to build unique vacation dream homes.
Already owning a large second home in Rancho Mirage, CA, Canadian citizens Peter and Tracy Bissonnette were in search of comfortable and amenity-filled location for extended stays from Tracy's parents. Peter found the 5-star quality he was looking for with Motorcoach Country Club, a private one-of-its-kind luxury motor coach resort boasting a par 3 golf course, health club, tennis courts surfaced to BNP Open standards, a private full-service restaurant, and 2 miles of navigable waterways.
Within a year of discovering the private and exclusive Motorcoach Country Club, the Bissonnette's purchased two lots. Development of custom features put to work local contractors and specialists to build the Bossionnette's third home, which they intend to use for entertaining and recreation, and a luxurious $675,000 corner lot fourth home with a pool that will be used exclusively by their in-laws. "We have invested significantly in each of our lots," say the Bissonnette's, "Our most recent privacy lot will be a place of respite and fun for all of our Canadian and American families who love the finest in life's joys."
As economists study the impact of Canadian 'snowbirds' in the local market, some findings point towards Canadians contributing up to 70% of home sales in the Coachella Valley over recent years, and relatedly indicate average home sale purchase prices increasing by up to 20% since 2012.
ABOUT MOTORCOACH COUNTRY CLUB
Located in Southern California's beautiful Coachella Valley, Motorcoach Country Club is a private 5-star luxury motorcoach resort, and the only of its kind in the nation. Accommodating 400 expansive and ornately landscaped lots, owners and guests are privy to a challenging par 3 golf course, health club, tennis courts, and private full-service restaurant. Catering to the adventurous in spirt and top of the line luxury comforts, each customizable lot features options for private casitas, swimming pools and spas, and waterfront property with private docks on two miles of navigable waterways.