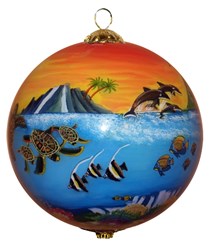 For many people, our Hawaiian ornaments represent annual connections to a special event, a special vacation, and special people, in their life.
Mililani, Hawaii (PRWEB) October 30, 2013
Andrea Butter used to have only a tiny clue that the collectible Hawaiian Christmas ornaments she designs and sells in upscale gift shops across Hawaii could mean more than just a tasteful souvenir to her customers.
"Each year, we would get a few emails asking about Hawaiian ornaments we no longer sold. The writers always wanted to buy those specific ornaments. I never knew why," says Butter.
Then she established a Facebook page for her company, Maui by Design, and started to engage directly with the people who ordered from her website.
"We heard some really touching stories," Butter says. "One customer gave the ornaments to her children in memory of their grandmother, who had passed away before a Hawaiian vacation she had planned with the kids."
Some of the biggest reasons to buy Hawaiian Christmas ornaments, Butter learned, are

Family tradition: ornaments represent major events the family has experienced during the year
Travel collections: many travelers collect ornaments from all their trips
Keepsakes of vacations with extended family
Keepsakes of a romantic vacation or honeymoon
Reminders of an island wedding for the couple's family members and wedding guests
Inspiration to return to Hawaii for the travelers themselves or their friends on the mainland
New Hawaiian Family Vacation Ornament
When Butter realized how many people cherish the memories of their family vacation, she designed a new Hawaiian ornament around that theme. Titled Hawaiian Family Vacation, the ornament features family groupings of sea turtles, dolphins and tropical fish in the ocean against the backdrop of a Hawaiian sunset. A single whale and her calf play in the waves, enjoying themselves as a family of two.
The ornament is one of over 50 Hawaiian ornaments from Maui by Design available in gift shops throughout Hawaii and online at http://www.mauibydesign.com.
All Hawaiian Christmas ornaments from Maui by Design are hand painted individually from the inside of the glass ball with painstaking detail. No two ornaments are exactly alike.
About Maui by Design
Maui by Design was founded in 1999 with a small line of inside or reverse hand painted Hawaiian ornaments and votive candleholders featuring Hawaiian tropical designs.
Today you can chose from over 50 hand painted ornaments and votive candleholders showing Hawaii's beautiful tropical flowers, sea life, romantic sunsets and Hawaiiana images. In addition to its premier line of Hawaiian ornaments, Maui by Design also offers a line of leather accessories hand painted with tropical Hawaiian imagery, marine and beach inspired jewelry, Hawaiian salt and pepper shakers and hand-carved wood wall art.
Originally operating from a small house in Kihei, Maui, the company moved its warehouse to Oahu in 2009, from where it ships to customers across all Hawaiian islands, the U.S. mainland and internationally.