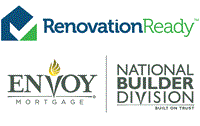 Envoy is in it for the long-term and understands the key to franchise value - building a solid reputation through flawless execution.
Denver, CO (PRWEB) October 29, 2013
Envoy Mortgage ("Envoy"), a full-service mortgage banking firm operating retail branch locations across the United States, announced today that they have enhanced their renovation lending platform through an alliance with RenovationReady®.
Envoy has joined forces with RenovationReady® to provide complimentary services to home buyers interested in renovation of single family residential properties. RenovationReady®'s service agreement with Envoy provides property certification, loan processing, and renovation loan administration across Envoy's origination network, which spans 48 states plus the District of Columbia.
The partnership of Envoy and RenovationReady® brings together more than 50 years of traditional FHA and renovation lending know-how. "The executive team at RenovationReady® manages over $100 million in FHA and Fannie Mae® renovation products. We are thrilled to bring their scale and capacity, aligned with Envoy's best-in-class mortgage origination model," stated Suzanne Schakett, Senior Vice President of Envoy's National Builder Division, a newly-formed division which supports new construction, strategic alliances and renovation lending at Envoy.
This collaboration will allow for the potential creation of additional jobs and opportunities for remodeling contractors and mortgage professionals in the Envoy footprint. With the focus on home renovation lending, Envoy can serve the home purchase market where repairs, health and safety code violations, or other property conditions impair the closing process between buyer and seller. "This is a game-changer for Envoy's mortgage sales teams and our fellow real estate professionals including real estate agents and brokers across the country," said Schakett. "The synergy we achieve by partnering with RenovationReady® will also provide our customers service levels the big banks haven't been able to deliver."
"Envoy is in it for the long-term and understands the key to franchise value - building a solid reputation through flawless execution. The management and sales team is committed to fast and reliable origination for borrowers, real estate agents, and asset managers. We're here to provide our turn-key renovation lending program to support Envoy in that effort," stated Jim Fraser, of RenovationReady®.
For more information regarding RenovationReady®'s services, please contact Patricia Ropers at (303) 925-2001 or patricia.ropers(at)renovationready(dot)com. For more information about Envoy's National Builder Division, please contact Suzanne Schakett at (855) 482-8807 or NBD(at)envoymortgage(dot)com.
Envoy Mortgage is a full-service mortgage banking firm headquartered in Houston, TX that operates a network of retail branch locations across the U.S., currently originating in 48 states and the District of Columbia. The branches offer a full menu of loan products and knowledge and expertise for all areas of the residential mortgage lending industry. Envoy's technology enables the company to maintain a completely paperless, in-house origination process, reducing costs and improving efficiencies. For more information, visit http://www.envoymortgage.com.
RenovationReady® helps real estate professionals and buyers to evaluate and make purchasing decisions on properties. Through a turn-key model of inspection, qualification, and certification, RenovationReady® ensures that each property's unique needs are addressed, the best loan for that home is provided, and the repair process is completed. RenovationReady® is a joint venture between Granite Companies and Chadron Group, LLC. These companies and their principals have shared experience in managing the nation's largest consumer construction and home improvement platforms for lenders, banks, and government agencies. http://www.renovationready.com.