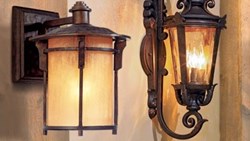 Remember to set your clocks back on November 3rd.
Los Angeles, CA (PRWEB) October 30, 2013
Daylight saving time comes to an end on Sunday, November 3, 2013, and people across the country will be setting their clocks back an hour. While the time change affords everyone an extra hour of sleep for one night, it also kicks off an entire season of longer evenings, not to mention the distinct possibility of increased energy expenses and a general sense of seasonally-induced malaise. With some simple planning however, it is possible to survive the end of daylight saving time and beat back the winter blues in style. To that end, the design experts at Lamps Plus recommend five winter lighting tips for doing just that:
Keep a Light On
Shorter days necessitate keeping outdoor lights on longer at night. Luckily it's not necessary to sacrifice security for electrical bill savings. Dusk to dawn lights automatically activate when the sun goes down and turn off when the sun comes up in the morning, eliminating the potential for accidentally keeping the lights on all day long. For even more savings, consumers can use motion sensor lights. These lights will still turn on when needed for safety and security but use less electricity because they spend the majority of the evening turned off.
Get the LED Out
"When daylight saving time ends, we inevitably use more light at home," explains Manja Swanson, Chief Creative Office for Lamps Plus. A great way to offset the cost of this extra demand is to replace incandescent lights with energy efficient LEDs. "LED lighting is more affordable than ever, and now with a selection of long-lasting LED bulbs on the market, saving electricity is as easy as installing a new bulb."
Warm Colors, Cool Nights
"People often refer to light as either 'warm' or 'cool,'" says Swanson. The visual characteristics of light are in fact measured as color temperature, with candle light in the range of 1800K and incandescent light bulbs topping out at just over 3000K. "There are adjustable LED desk lamps currently on the market that can replicate many of the color temperatures consumers would consider warm," continues Swanson. "Or for a full spectrum look that still retains a feeling of comfort, halogen bulbs are perfect for light artwork and task areas such as the kitchen."
Get Your Daily D
The sun is a natural source for vitamin D. As it appears less during short winter days, it may be necessary to supplement its effect to avoid symptoms of vitamin D deficiency, as well as seasonal affective disorder, also known as the wintertime blues. Seasonal affective disorder lights such as the Verilux Happylight provide a natural spectrum of light in an energy-efficient 72 watt package. These designs are particularly well-suited to people in Northern latitudes where the winter days are exceptionally short and dark.
Wear Layers
As families are likely to spend more time indoors during the winter, Swanson adds some general advice for creating a comfortable lighting scheme at home: "If you want to create a warm, cozy look, think in layers. A combination of table lamps, track style lighting and perhaps even under counter lights for shelves will help to bring out specific aspects of your home. The resulting contrast of tones and textures creates a pleasing, layered style."
"Lastly, don't forget there are two sides to the rule: spring forward, fall back," concludes Swanson. "Daylight saving time returns March 9, 2014. So whether it's a valued wristwatch or classic wall clocks in the kitchen, bedroom and just about any room in the house, be ready to spring forward again when the time comes."
About Lamps Plus
For more than 30 years, Lamps Plus has been synonymous with excellence in the retail lighting industry. Established in 1976, Lamps Plus is the nation's largest specialty lighting store, with more than 40 superstores throughout the western United States. In 2013, LampsPlus.com was named a Top 10 Housewares/Home Furnishings e-tailer and a "Hot 100" world's best retail website by Internet Retailer Magazine. Together with its retail locations, the company serves customers nationwide with the largest selection of functional and decorative lighting fixtures, accessories, furniture and home decor. This selection includes hundreds of products, ranging from traditional chandeliers to the latest in home decor, available exclusively from Lamps Plus. The company also holds several patents for innovative lighting. Services offered include in-home lighting consultations, in-store workshops and installation from expert, licensed electricians. American Lighting Association certified designers are available to offer product recommendations and advice in all our stores, by phone or online at LampsPlus.com. The Lamps Plus family of websites also includes 55 Downing Street, Lighting Luxury Style, Builders Discount Lighting, and Lamps Plus Open Box. Visit the official Lamps Plus website: LampsPlus.com.