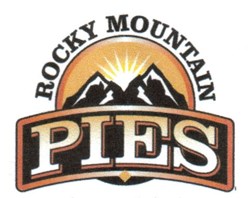 Salt Lake City, Utah (PRWEB) October 29, 2013
Rocky Mountain Pies has demonstrated their high quality of service and impeccable sweet and savory sensations for years. Now, they're emerging at the front of the pack at the ideal moment: offering a variety of fall flavors for Halloween.
When most people think of Halloween, images of ghosts and ghouls come to mind, not holiday dessert manufacturers. However, Rock Mountain Pies is the perfect apple pie supplier to do the job right. Not only do they use home-style ingredients and a unique semi-automated process, but they have also managed to create individual flavors that have captured the attention and taste buds of the every pie lover in America. The study that Rocky Mountain Pies has released has spurred an influx of pumpkin flavors just in time for the fall holidays. Pumpkins are the shining stars of Halloween and the famous symbol of autumn, and most dessert suppliers typically include them in their autumn dessert repertoire. Rocky Mountain Pies, who retains the title of being the leader in quality pastry production, has revolutionized the fall dessert scene with their variety incredibly tasty and luxurious pumpkin options.
Dessert producers all over the nation are scrambling to put together those perfect fall treats that will appeal to every man, woman, and child. RMP, though, has unlocked the key to pleasing every pie fan out there! Pumpkins are the most cherished symbol of fall so what better way to herald the autumn season than with pumpkin pies from the taste-tested apple pie supplier? RMP carries flavors that include traditional pumpkin and apple, along with variations such as streusel and chiffon, as well as a caramel apple. They are the epitome of sugar, spice, and everything nice. It's something that these particular holiday dessert manufacturers have taken upon themselves to not only perfect, but also cherish. The orange gourd is the universal sign of bountifulness and plenty, which is an excellent way to express gratitude for family and friends at any gathering this fall.
The Rocky Mountain Pies study has confirmed what people have already suspected about fall desserts; they're the idyllic treat for this upcoming fall season and will put a big smile on the face of each pie fan at Halloween, Thanksgiving, or any autumn occasion. This company has proven that they're not only skilled dessert suppliers but also pumpkin connoisseurs. To find out more about the flavors they offer, visit http://www.rockymountainpies.com.