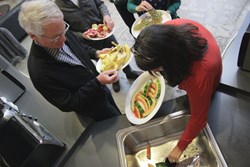 Minneapolis, MN (PRWEB) October 30, 2013
InSinkErator, a business of Emerson and the world's largest manufacturer of food waste disposers and instant hot water dispensers for home and commercial use, has selected Preston Kelly, Minneapolis, as its marketing agency of record following a competitive review of Midwest agencies.
The two organizations will explore opportunities geared to build on InSinkErator's leadership position. As the global market leader, InSinkErator is looking to not only enhance its North American position, but global leadership position as well. It has been the market leader in food waste disposers since its founding in 1938.
Preston Kelly, the champion of Iconic Ideas, believes that the iconic brand status of InSinkErator offers untapped strategic opportunities and plans to utilize digital, public relations, social media and traditional media in the marketing mix.
"For many reasons Preston Kelly is a good fit for us. We believe in their agency philosophy and sense we'll work well together," said Carol Baricovich, Director of Global Brand Communications and Government Relations at InSinkErator. "Equally important to us are their strategic capabilities and innovative, compelling creative."
"We were impressed by the company's marketing leadership from the first day this process started," said Chuck Kelly, Chief Executive Officer at Preston Kelly. "They have demonstrated that they are strategic and passionate about the business and the brand."
InSinkErator will be added to a Preston Kelly client roster that includes, Be The Match, HealthPartners, Mall of America, Medtronic, Nickelodeon Universe, OfficeMax, Physicians Mutual, Roundy's Supermarkets, SuperAmerica, and the YMCA, among others.
About InSinkErator
Headquartered in Racine, Wis., InSinkErator, a business of Emerson, is the world's largest manufacturer of food waste disposers and instant hot water dispensers for home and commercial use. For more information about InSinkErator products, call 1-800-558-5700 or visit the company's website at http://www.insinkerator.com.
About Emerson
Emerson, based in St. Louis, Missouri (USA), is a global leader in bringing technology and engineering together to provide innovative solutions for customers in industrial, commercial, and consumer markets around the world. The company is comprised of five business segments: Process Management, Industrial Automation, Network Power, Climate Technologies, and Commercial & Residential Solutions. Sales in fiscal 2012 were $24.4 billion. For more information, visit http://www.Emerson.com.
About Preston Kelly
Preston Kelly is a full-service, independent marketing agency that creates Iconic Ideas for its clients across multiple categories. Preston Kelly was recently named as one of the top 25 Most Effective Independent Advertising Agencies in the country by Effie Worldwide. Preston Kelly is a past recipient of Advertising Age's Midwest Small Agency of the Year award and Radio Mercury Awards' Integrated Campaign of the Year award in 2010. Preston Kelly is a member of Worldwide Partners, the world's largest network of independent marketing and communications firms. To learn more about Preston Kelly, visit prestonkelly.com, become a fan on Facebook or join the conversation on Twitter. You can also read their musings on the latest trends in advertising at Iconic Ideas Tumblr.