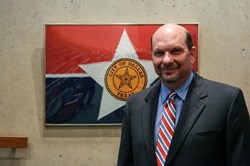 Working together is the best and only way that we can significantly reduce hunger in North Texas.
Dallas, TX (PRWEB) October 29, 2013
Participants at the Second Annual Hunger Summit in Dallas left with creative solutions to help the more than 450,000 hungry citizens in Dallas County. The summit included local, state, and federal officials.
The Hunger Summit concept came about after Congresswoman Eddie Bernice Johnson of Dallas viewed a video from local nonprofit FEED 3, detailing the high amounts of hunger in her congressional district. Determining to change the hunger landscape, she asked FEED 3 and other local nonprofits to join her at the table to work toward realistic goals.
Thus, the Hunger Summit was created along with a committee of local nonprofits, church and business leaders which eventually became the Dallas Coalition for Hunger Solutions.
Working to help develop the Dallas Coalition, has been The Texas Hunger Initiative- the result of Baylor University School of Social Work and the Texas Baptist Christian Life Commission.
"Texas Baptists have long been at the forefront of hunger and disaster relief in our state" says FEED 3Executive Director Randy Skinner. "This program with Baylor University brings a strategic process to our area in the battle against hunger."
The local coalition includes the Dallas Baptist Association, Episcopal Diocese, North Texas Food Bank, Dallas Independent School District, Good Indeed, Get Healthy Dallas, FEED 3, Dallas Office of Mayor, Texas Hunger Initiatives, along with local business leaders. Congresswoman Johnson serves as the chairperson for the coalition.
Two days before the summit, the U.S. Department of Agriculture released a report saying 18.4 percent of Texas households were hungry or at risk of hunger between 2010 and 2012—nearly 4 percent higher than the national rate and statistically unchanged from the prior three-year period. Texas ranks No. 3 nationally in terms of food insecurity, behind Arkansas and Mississippi.
Those impacted the most, with long term health and education impact, are children. An alarming 192,502 of the 654,263 children in Dallas county live in hunger and poverty. Currently 87% of DISD children qualify for the federal lunch program. However, the Dallas ISD has committed to expand its breakfast-in-the-classroom program across the district, and students received 9.6 million more meals his past year than the previous year, said Dora Rivas, executive director of food and nutrition services for the Dallas ISD.
Studies have shown that children, who arrive at school without a healthy breakfast, have short attention spans and trouble concentrating in class. Schools serving breakfast in the classroom have seen an improvement in attention span, grades, and discipline problems.
"In this land of riches, no child, no family, should go without food," Johnson told the hunger summit.
"During the summer months, these children often go hungry" said Skinner, whose FEED 3 organization provided over 160,000 meals and snacks this summer to inner city children at 27 locations. (Give here for our summer and after school meals programs)
"There's more than enough food out there. There are more than enough resources out there. The key missing ingredients are coordination and collaboration," said Marc Jacobson from the Texas Hunger Initiative.
Helping bring a coordinated approach to hunger in the Dallas area, the coalition coalition created action teams to address four goals—increase access to federally funded programs; increase access to programs that are not federally funded; grow and provide access to healthy food by promoting a local and sustainable food system, and decrease the number of food deserts and food swamps.
For more information on opportunities to serve with one of the four action teams of the Dallas Coalition for Hunger Solutions, please contact us: info(at)feed3(dot)org.
For facts about Hunger in North Texas and statistics.
For more information about FEED 3 and partner Strategic Justice Initiatives Inc. summer feeding programs or one of its 27 sites, please contact:
Randy Skinner
(214) 316-1356
Ashley Douglas
(214) 497-4430
Donate here to help our pro-business approach to hunger and poverty.