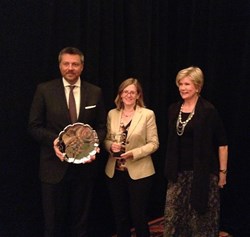 New York City, NY (PRWEB) October 29, 2013
The Appway partnership with BNY Mellon - aimed at transforming client onboarding and compliance practices within the financial institution - was declared the winner from a pool of more than 50 competitors from all corners of the globe for their outstanding examples of BPM implementation, innovation and impact.
The Appway-BNY Mellon Journey to Successful Client Onboarding
"Appway was selected to drive an ambitious restructuring of our in-house client onboarding and customer compliance services in 2010. In less than three years they have helped us automate dozens of labor-intensive processes and become more agile and efficient…what started as a simple one-mandate contract has since evolved to a fully-fledged project spanning several departments. Our customers are enjoying faster and better service, and we look forward to the future of this partnership." – Nina Pilsbury, BNY Mellon.
Co-sponsored by Workflow Management Coalition and now in its 20th year, this prestigious Global Award for Excellence in BPM distinguishes user organizations that have demonstrably excelled in implementing innovative business process solutions to meet strategic business objectives.
"It's an honor for us to be mentioned in such great company," says Glenn Bolstad, VP of Sales at Appway North America. "While Appway's venture in North America may still be considered young in terms of how long we've been active in the region, we already work with some of the biggest names in the space. On a global scale we collaborate with 4 out of the 5 leading financial institutions around the world, and we are looking to grow those relationships here as well. The financial services industry finds itself in the midst of an ever expanding regulatory compliance environment, increasingly demanding customer service and a cloud-based business world – and we will continue to guide businesses on their journey towards successful client onboarding and compliance practices, every step of the way."
About Appway
Appway, the global leader in client onboarding for the finance industry, transforms ordinary process interactions into outstanding experiences at every touch point. Headquartered in Zürich and with offices in Ticino, Geneva, Hong Kong, New York and Singapore, Appway caters to 4 out of 5 top Wealth Management Institutions around the globe - offering specialized client onboarding solutions to more than 100 of the world's most recognized financial players in Europe, Asia and the Americas.
More Information: http://www.appway.com
Follow us on Twitter: @Appway
About BNY Mellon
BNY Mellon is a global investments company dedicated to helping its clients manage and service their financial assets throughout the investment lifecycle. Whether providing financial services for institutions, corporations or individual investors, BNY Mellon delivers informed investment management and investment services in 35 countries and more than 100 markets. As of September 30, 2013, BNY Mellon had $27.4 trillion in assets under custody and/or administration, and $1.5 trillion in assets under management. BNY Mellon can act as a single point of contact for clients looking to create, trade, hold, manage, service, distribute or restructure investments. BNY Mellon is the corporate brand of The Bank of New York Mellon Corporation (NYSE: BK).
More Information: http://www.bnymellon.com/
Follow us on Twitter: @BNYMellon
About the Award
The Workflow Management Coalition WFMC, founded in August 1993, is a non-profit, international organization who's mission is to promote and develop the use of BPM and workflow through the establishment of standards for software terminology, interoperability and connectivity between workflow products. Comprising over 300 members worldwide, the Coalition is the only standards body for this specific business process software market.
The Global Awards for Excellence in BPM & Workflow recognizes organizations that have implemented particularly innovative workflow solutions. Every year between 10 and 15 BPM and workflow solutions are recognized in this manner. WfMC publishes the case studies in the annual Excellence in Practice series.
More Information: http://www.bpmf.org/
Ends
Character count: 1,962