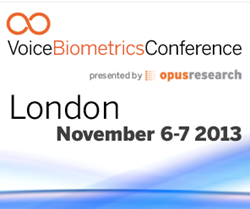 Voice-based authentication has made dramatic headway in contact centers, IVRs and mobile devices.
San Francisco, CA (PRWEB) October 29, 2013
Attendees and speakers from five continents and fifteen countries are convening to share perspectives and experiences with voice biometrics technologies, how far they have come and where they are going. With the theme, "Preventing Fraud and Promoting Trust," VBC London (November 6-7) has attracted attendees who represent customer care, mobile commerce and security experts from banks, telecommunications carriers, healthcare providers, pension funds and government agencies.
"Voice-based authentication has made dramatic headway in contact centers, IVRs and mobile devices," explains Dan Miller, senior analyst at Opus Research and chairman of Voice Biometrics Conference London. "Now we're defining a future where voiceprints are combined with alternative authentication mechanisms, including other biometrics (like facial recognition and fingerprints), to simplify and streamline logins, service access and even transaction authorization."
Michal Liday, Head of Retail at Slovakia's Tatra Bank, will deliver a keynote address describing how Tatra Bank has implemented voice-based authentication for mobile banking. With over 14 million customers in 17 countries, Tatra Bank prides itself as a leader both in customer satisfaction and technology implementation.
Other highlights include primary research about customer acceptance of voice-based authentication by contact center specialist Sabio. And a discussion of identification and authentication in a post-password world by identity expert and thought-leader David Birch.
In addition leading technology vendors and solutions providers will showcase their products and services. Platinum sponsors include Nuance, VoiceVault, Nice and ValidSoft; gold sponsors are Agnitio, Sestek, VoiceSecure and Verint; event sponsors are Sabio, VoiceTrust and SpeechPro.
About Voice Biometrics Conference London
The conference will be held at Grosvenor House - a JW Marriott Hotel. VBC London is the only event designed specifically to discuss capabilities and potential of voice biometric-based solutions. It is a meeting place for vendors, integrators, solutions providers and enterprise executives to define the future of simple, secure authentication.
About Opus Research
Opus Research, founded 1985, is an industry analyst firm focused on "conversational technologies," mobile search and e-commerce. Its treatment of voice biometrics started in 2002 with a project for the public telephone company in Australia. Opus Research convened the first Voice Biometrics Conference in Washington, DC in 2007.