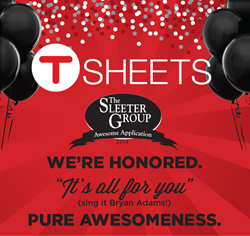 TSheets is honored to be chosen for the Sleeter Awesome App award in our quest to become the #1 employee-rated time tracking system on the planet.
Boise, ID (PRWEB) November 04, 2013
On Monday, TSheets Time Tracker was selected as a 2014 Awesome Application by The Sleeter Group, a consulting group dedicated to researching the marketplace and finding the best accounting technology solutions to help small businesses work smarter, faster and more efficiently.
The Awesome Applications honor highlights the productivity-enhancing benefits of TSheets, which stands out from the thousands of software solutions designed for small businesses. The award also recognizes that the application meets the highest standards of design, ease-of-use, and conformance with appropriate accounting standards.
TSheets, is a Web-based time and attendance software loved by employees and employers worldwide. Using a desktop or laptop, cell phone or smartphone app, dial in, text message, email or mobile Web, TSheets enables employees to enter time using the technology at their fingertips. TSheets also seamlessly integrates with QuickBooks and and is the number one rated and reviewed time tracker in the Intuit App Center.
According to Matt Rissell, CEO of TSheets.com, "We believe having an "Awesome App" is substantially more than just a great product. It carries with it the responsibility to continue to improve it, support it, and most importantly - make sure it continues to hit home with our end user - the employee! TSheets is honored to be chosen for the Sleeter Awesome App award in our quest to become the #1 employee-rated time tracking system on the planet."
"TSheets was selected for the Awesome Application honor by public votes and accounting-technology thought leaders because it helps solve a critical business process and integrates seamlessly with other small business management platforms. TSheets meets the real business needs of a remote or mobile workforce, and those looking for an easy-to-use, real-time Web-based time tracker," said Doug Sleeter, the founder and president of The Sleeter Group.
About TSheets
TSheets is a Web-based employee time and attendance software used by thousands of companies and their employees around the world. Providing an easy-to-use employee interface, real-time job costing, reporting and seamless QuickBooks integration.
About The Sleeter Group
In addition to hosting an annual Accounting Solutions Conference, attended by hundreds of accountants and consultants, The Sleeter Group has a network of more than 750 accounting and technology experts who are dedicated to helping accountants and small businesses work together more effectively. Its consultant members have helped more than 300,000 small to medium-sized businesses across the country. The Sleeter Group also offers reference books, webinars, seminars, a QuickBooks consultant certification program, practice management tools, teaching systems, assessment exams and an accounting tool kit.