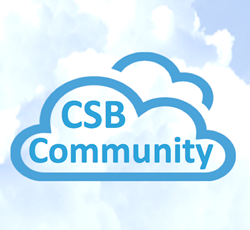 Our company has realized significant business-building benefits from the tools and strategies developed by the founders of the CSBcommunity...
Andover, MA (PRWEB) October 29, 2013
MSPexcellence, a business advisor to Managed Service Providers (MSPs) and Cloud Service Brokers (CSBs) around the world, today announced CSBcommunity, a new online business-building resource for CSBs. CSBcommunity content is organized to focus on 3 Critical Success Factors (CSFs) created and utilized by MSPexcellence to help IT Service Providers build highly successful CSB businesses:
1. Create a CSB Business Growth Plan
2. Build High-Value Cloud Solution Bundles
3. Manage an Efficient Cloud Solutions Sales Engine
CSBcommunity delivers its content with a multi-media and multi-dimensional website complemented by an educational program. The CSBcommunity blog poses questions and offers insights about the 3 CSFs and expands on them with online webinars and workshops that feature a variety of guest speakers in addition to the MSPexcellence team. All CSBcommunity members have access to modeling tools, a video channel, a directory of CSB vendors and other resources to enable CSBs that are starting a business, or expanding an existing business, to follow a self-guided business transformation and growth process. Membership in CSBcommunity is free.
CSBcommunity also offers a fee-based educational program, CSBacademy, which features two different approaches for implementing a successful and scalable CSB business with the assistance of online instruction and advisory services.
One approach, called CSBaccelerator, includes a series of comprehensive online workshops that take the CSB through the 3 Critical Success Factors in a very methodical way. The second approach, called CSBadvisor, is a direct consulting engagement with the MSPexcellence team. Based on a detailed assessment of the CSB's business needs, a tailored statement of work is developed and delivered by MSPexcellence.
CSBcommunity includes cloud technology vendors and channel partners participating as CSBcommunity sponsors or CSB member companies. The following companies are examples of both sponsors and members.
Gravitant is a founding CSBcommunity sponsor. Their CloudMatrix platform automates all business, technology and operational aspects of running a CSB business. "With CSBcommunity, we have found a true alignment of vision and purpose for empowering the Cloud Services Broker," said Praveen Asthana, Chief Marketing Officer at Gravitant. "Their deep focus on modeling the financial performance and sales efficiency of cloud solutions is a fantastic complement to our CSB automation platform. It's a perfect blend of strategy and execution."
Peak, an enterprise-class IaaS cloud service provider, is an early CSBcommunity sponsor. "Because Peak is 100% channel centric, our success is tied to our partners' success," said Luke Norris, CEO and Founder of Peak. "We applaud and endorse the valuable role CSBcommunity plays in providing a framework for building a mutually successful CSB business strategy and connecting channel-committed cloud vendors like Peak with cloud-committed channel partners."
ShoreTel, the award-winning IP telephony systems vendor offers ShoreTel Sky, a hosted solution for Unified Communications (UC) in the cloud. According to Bob Maute, Sr. Director, Channels & Alliances, "As the market leader in UC-as-a-Service, we believe ShoreTel Sky represents a huge opportunity for CSBs to grow their business. To fully exploit this opportunity, CSBs must conquer the critical success factors addressed by the CSBcommunity. We fully support the CSBcommunity approach and we are committed to contributing to this valuable industry resource."
Cumulus Global, a born in the cloud CSB, is a Premier Google Apps Reseller Partner that offers a diversified portfolio of cloud solutions. "Our company has realized significant business-building benefits from the tools and strategies developed by the founders of the CSBcommunity," stated Allen Falcon, CEO of Cumulus Global. "They help us to evaluate, plan and expand our services with a greater understanding of the impact on our costs, our operations and our bottom line."
About CSBcommunity
CSBcommunity is an online website and educational program that combines resources and best practices for building and scaling a successful Cloud Service Broker (CSB) business. The CSB is the next-generation business model for IT Service Providers in the new era of cloud computing. CSBcommunity is organized, managed and operated by MSPexcellence, the business-building consultancy for Managed Service Providers and Cloud Service Brokers. More information about CSBcommunity is available at http://www.csbcommunity.com or follow @CSBexcellence on Twitter.
# # #