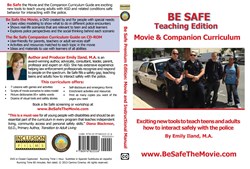 These unique new safety tools are "completely indispensable" to the autism community and for others who need to learn to Be Safe. Daniel Comin, AutismoDiario
Santa Clarita, CA (PRWEB) October 30, 2013
More and more news stories highlight problematic and even tragic encounters between the police and individuals with special needs. BE SAFE The Movie is a specialized safety tool created by author/producer Emily Iland, M.A. and co-producer Joey Travolta that can help improve outcomes in police encounters for everyone. Almost everyone involved in the making of BE SAFE has a connection to the special needs community, from the actors, to the filmmakers from Inclusion Films to the police officers.
Find BE SAFE The Movie & BE SAFE Teaching Edition exclusively at http://www.BeSafeTheMovie.com
Subtitles in Spanish and Closed Captions make BE SAFE accessible to a wide audience at home, school or community programs. "This is a 'must see' video for all young people with disabilities," said Diana Blackmon, Ed.D., education expert. "The video can be viewed in its entirety or shown in segments as an introduction to safety laws, self-advocacy and what to do if you are stopped or arrested by the police. BE SAFE The Movie should be an essential part of every program that teaches independent living, community access and personal safety skills."
BE SAFE Teaching Edition includes the Movie on DVD plus a Companion Curriculum with 7 Lessons for use by parents, teachers and staff. BE SAFE Teaching Edition offers over 300 pages of specially designed materials, activities and resources to help learners with a range of learning styles and language levels, age 12 to adult.
About Camino Cinema
Camino Cinema founder Emily Iland, M.A. is an award-winning author, researcher and leader in the autism field. As the mother of a young man with ASD, a bilingual advocate assisting hundreds of families, and an adjunct professor of special education, she brings years of experience and insight to this project. Contact Camino Cinema for clips, interviews, and screenings.
About Inclusion Films
Inclusion Films is a training program for youth with disabilities founded by Joey Travolta, to prepare teens and adults for employment in the entertainment industry. The dedicated students of Inclusion Films in front of the cameras as actors and behind the scenes helped make BE SAFE a relevant, relatable and realistic film.