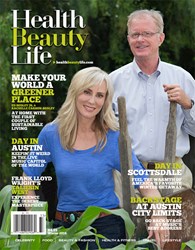 Look for Health Beauty Life magazine on the newsstands at Kroger supermarket starting December 2013.
Oceanside, CA (PRWEB) October 30, 2013
Health Beauty Life Media, the rising star of interactive media, is proud to announce expanded distribution of their quarterly lifestyle publication, Health Beauty Life magazine, into select Kroger supermarkets.
The magazine originated with distribution to high-end salons and medical practitioners, branching out into select Whole Foods outlets. Recent expansions in distribution include Barnes & Noble and Books-A-Million retailers nationwide and now with Kroger, Health Beauty Life magazine has increased exposure in 31 states.
Kroger, one of the world's largest retailers, employs 343,000 associates who serve customers in 2,418 supermarkets and multi-department stores in 31 states under two dozen local banner names including Kroger, City Market, Dillons, Jay C, Food 4 Less, Fred Meyer, Fry's, King Soopers, QFC, Ralphs and Smith's.
Look for Health Beauty Life magazine on the newsstands for $4.99 at Whole Foods, Barnes and Noble, and Books-A-Million retailers starting November 26, 2013, in time for Black Friday. Distribution through Kroger stores will follow in December.
About Patrick Dockry
Publisher, Executive Producer and Host, Patrick Dockry oversees the growing brand of Health Beauty Life, with media outlets including print, online and television.
About Health Beauty Life
Health Beauty Life magazine explores trends in celebrity, food, beauty & fashion, health & fitness, travel, and lifestyle. Each quarterly issue includes a signature mix of exclusive interviews, noteworthy lifestyle explorations, healthy cuisine, beauty tips, and getaway destinations.
Health Beauty Life magazine is nationally distributed in print with interactive QR coded articles and available globally through HealthBeautyLife.com.
Health Beauty Life TV is a nationally broadcast 13-episode series showcased to 32 million households from September 7th through November 30th on TuffTV on Saturdays at 3:00 pm PST/6:00 PM EST. Starting in January 2014, the show will reach 90 million households on WEtv on Saturdays at 9:30 am EST/PST, 8:30 am CST. Visit HealthBeautyLife.com or check your local TV listings for times and channels.
For more information about Health Beauty Life magazine or Health Beauty Life TV, please visit HealthBeautyLife.com.