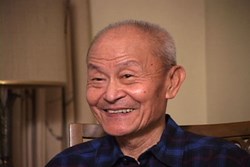 Riverdale, NY (PRWEB) October 30, 2013
On Veterans Day, Monday, Nov. 11, Manhattan College will recognize alumnus and Korean War veteran Paul Loong '58 with a film screening of "Every Day Is a Holiday," which tells his story as a prisoner of war (POW) in Japan during World War II. The free screening will begin at 6 p.m. followed by a discussion with Dr. Loong and the film's director.
Chinese-American filmmaker Theresa Loong, daughter of Paul Loong, created "Every Day Is a Holiday" to chronicle her father's experience as a POW from 1942 to 1945, and his subsequent struggle to gain U.S. citizenship. After moving to the U.S., Paul Loong became a merchant seaman and traveled the world. He also signed up for the draft and served in Korea during the Korean War. With the help of Congress, he officially became a U.S. citizen in 1956, completed his bachelor's degree at Manhattan College in 1958, and went on to medical school in Italy, eventually practicing as a doctor at a Veterans Affairs Hospital in East Orange, N.J.
The documentary first aired on public television in May 2012, and captures Paul Loong's story through his personal diary, archival war footage, and conversations between father and daughter.
Theresa Loong is founder of the interactive production company, FORM360, and has worked with AMC Networks, New York Magazine, The New York Times, Intellitoys, Architecture for Humanity, Milestone Films and Time Warner.
The film screening will be held in Manhattan College's Hayden Hall, Room 100, and the event is free and open to the local community.
For more information, please visit http://www.everydayisaholiday.org.
About Manhattan College:
Manhattan College is located at West 242nd Street near Broadway in the Riverdale section of the Bronx, one mile from the Westchester County line and accessible by MTA subway line No. 1. For directions to the campus, visit http://www.manhattan.edu.
Founded in 1853, Manhattan College is an independent, Lasallian Catholic, coeducational institution of higher learning offering more than 40 major programs of undergraduate study in the areas of arts, business, education and health, engineering and science, along with continuing and professional studies, and a graduate division. For more information about Manhattan College, visit http://www.manhattan.edu.