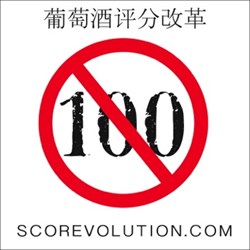 Scores are static arbitrary misleading symbols that can't even begin to explain the context of wine.
Benton City, WA (PRWEB) October 29, 2013
As Hedges Family Estate continues its domestic growth for Red Mountain and Columbia Valley wines, two emissaries of the Hedges Estate on Red Mountain look east to China to move in on a growing market for quality wine. With one container now landing in the Port of Shanghai, Christophe Hedges and Boo Walker will be landing in HK armed with the marketing of Score Revolution (http://www.scorevolution.com), a concept developed to emphasize the writing of fine wine over the wine's score. "To sell wine against the established method of leveraging critic's scores is refreshing here in America," Hedges says. "The wine trade has really responded positively. The Score Revolution has enabled us to have a much more in-depth discussion on the merits of a wine from a certain geography. We feel that China is progressing to a more educated buying system, as austerity in China has forced buyers to look elsewhere for value."
Hedges Family Estate's new importer, Area 16, based out of Guangzhou, loves the concept of the Score Revolution. Area 16 is all about education, and the Hedges story fits right inline with their philosophy. Two major trade shows, the HK International Wine and Spirits Fair, and Prowine Shanghai are two target venues where these gentlemen plan to share the Score Revolution. "It's not about winning the revolution," says Boo Walker, "but rather, giving the revolution a voice. The movement started with a whisper many years ago, and now it's permeated many aspects of selling fine wine."
"As word of the online petition spread," Hedges says, "we were seen as radicals by mainstream wine media. Some bloggers called us score haters. That was to be expected. They want us to stay in the shadows, but we can't. Every Gen X or Millennial I meet doesn't put much faith in the point system. Wine writers in all forms are respectable, and we love wine writers, but it's the scores themselves that do a disservice to wine. Scores are static, arbitrary, misleading symbols that can't even begin to explain the context of wine."
The future looks bright for China, as more wineries move in on the ultra luxury branded market. Will China eclipse US case sales one day? It's possible. Will the scoring system dictate who succeeds? Yet to be determined.