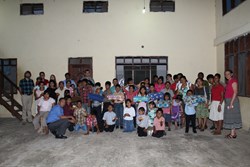 Escalante, Utah (PRWEB) October 30, 2013
Turn-About Ranch has received international recognition for its powerful residential treatment program for struggling teens, including regular features on the Dr. Phil show. Now, the Utah-based program is garnering attention for helping young people who will likely never set foot on its rustic working ranch location, in the form of community service.
"Giving back to others less fortunate is an important concept for our students to understand," said Chris Christensen, Executive Director. "When we can concern ourselves more with doing for others, then we tend to not focus on how difficult we think our own life is, and can help ourselves through helping others."
Turn-About Ranch students – comprised of teens who previously struggled with issues of defiance, accountability, academic difficulty and/or substance use – routinely donate handmade blankets, quilts and toys to children's hospitals, orphanages, and other needy agencies. Students are then encouraged to seek out places and opportunities to donate their time and help when they return home, after their average 100 days of treatment at the Ranch.
This month, the students shipped toys and blankets to the Familia Feliz orphanage in Bolivia. Future plans include donations to the Ukraine, Colombia, Peru and, locally, to Primary Children's Hospital in Salt Lake City. On average, students spend 25 hours a week on service projects.
"Seeing the pictures [of the orphans] made me smile," said one student. "I loved to see the kids with the blankets and the toys. They were all so adorable and it felt amazing to see what they look like. It was a very rewarding experience to do something for less fortunate kids. Seeing pictures of them just made it all the more amazing."
Turn-About Ranch has established a reputation of excellence for helping families and adolescents over the past 23 years. Turn-About is a residential treatment program for teens who exhibit rebellious, self-centered, and/or manipulative behaviors. Set on a real working cattle ranch, trained staff teach traditional ethics and morals to remind troubled teens how important the values of honesty, respect, teamwork, and accountability are to their success. This combination of a real ranch and real values contribute to real change when students learn the value of a day's work, experience the power of working in cooperation with others, and develop stronger senses of accountability, respect, and compassion.
Turn-About Ranch is a program of CRC Health Group, the most comprehensive network of specialized behavioral healthcare services in the nation. CRC offers the largest array of personalized treatment options, allowing individuals, families and professionals to choose the most appropriate treatment setting for their behavioral, addiction, weight management and therapeutic education needs. CRC is committed to making its services widely and easily available, while maintaining a passion for delivering advanced treatment. Since 1995, CRC has been helping individuals and families reclaim and enrich their lives.
###