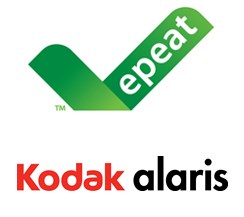 The EPEAT registry demonstrates Kodak Alaris' commitment to the design of environmentally friendly, sustainable products that are more durable, efficient and long-lasting. -- Dolores Kruchten, President, Kodak Alaris' Document Imaging division
Portland, OR (PRWEB) October 30, 2013
The Green Electronics Council announced today that 13 devices from Kodak Alaris are now included on the EPEAT Registry. EPEAT is the definitive global rating system for greener electronics. Kodak Alaris' EPEAT debut included 13 document scanners, more than any other manufacturer. The company plans to register additional imaging equipment as the devices comply with EPEAT's environmental requirements.
The EPEAT system rates products on a life cycle basis, addressing the elimination of toxic substances, the use of recycled and recyclable materials, their design for recycling, product longevity, energy efficiency, corporate performance and packaging, among other criteria.
"I applaud Kodak Alaris for developing products that combine technical and environmental superiority," said Robert Frisbee, CEO of the Green Electronics Council. "Registering these scanners with EPEAT shows Kodak Alaris' commitment to meeting the environmental policies of purchasers worldwide."
EPEAT is used as an environmental purchasing requirement by eight national governments, including the United States, and is integrated into hundreds of municipal, educational, healthcare and enterprise IT contracts worldwide. For more than six years, EPEAT ratings have helped companies, governments and consumers compare and purchase greener PCs and monitors, resulting in significant environmental benefits. The EPEAT system expanded in February 2013 to include printers, copiers, scanners and other imaging equipment.
Kodak Alaris' document scanners provide reliable, high-performing and quality solutions for data-driven applications in a variety of environments, from small businesses to worldwide operations. KODAK Scanners (kodak.com/go/scannernews) rated by the Green Electronics Council include both production scanners for high-volume document processing requiring real-world speed for around-the-clock productivity and distributed scanners that enable departments and workgroups to more effectively capture and share information from paper-based documents. EPEAT registered silver-rated production scanners include the KODAK i5800 Scanner, the KODAK i5200 and i5200V Scanners, the KODAK i5600 and i5600V Scanners and the KODAK i4000 Series Scanners. EPEAT registered distributed capture solutions include the full line of KODAK i2000 Series Scanners, the KODAK i3200 Scanner and the KODAK i3400 Scanner, all of which are bronze-rated.
"Businesses we work with, such as service providers and government agencies, require innovative products that meet specific environmental standards and deliver a positive impact for their organization and customers," said Dolores Kruchten, president, Kodak Alaris' Document Imaging division. "The EPEAT registry demonstrates Kodak Alaris' commitment to the design of environmentally friendly, sustainable products that are more durable, efficient and long-lasting."
To be added to the EPEAT Registry, an imaging device must meet at least 33 required environmental performance criteria. Products may achieve higher ratings by meeting up to 26 additional optional criteria. The rating criteria were developed during a four-year stakeholder consensus process that involved hundreds of representatives from the environmental, research, governmental and manufacturing sectors.
More than 50 manufacturers have registered their "greener" PCs, monitors, copiers, printers, scanners and televisions in more than 40 countries. Since 2006, purchasers choosing EPEAT-registered electronics over products that don't meet the system's criteria have eliminated greenhouse gas emissions equivalent to 11 million U.S. vehicles' annual impact, avoided more than 394,000 metric tons of hazardous waste and reduced solid waste by nearly 167,000 metric tons – equivalent to nearly 86,000 U.S. households' annual waste.
About EPEAT
EPEAT is the definitive global registry for greener electronics. The registry includes the most products from the broadest range of manufacturers and spans the widest array of countries. EPEAT combines strict, comprehensive criteria for design, production, energy use and recycling with ongoing independent verification of manufacturer claims. More than 533 million EPEAT-registered products have been sold worldwide since 2006, resulting in significant environmental benefits. EPEAT was developed through a stakeholder consensus process and is managed by the Green Electronics Council, a non-profit organization based in Portland, Oregon. Learn more at epeat.net.
About Kodak Alaris' Document Imaging Division
Kodak Alaris' Document Imaging solutions enable customers to capture and consolidate data from digital and paper sources, understand and extract valuable insight from the contents, and deliver the right information to the right people at the right time. Our offerings include award-winning scanners, capture and information management software, an expanding range of professional services and industry-leading service and support. With customers ranging from small offices to global operations, Kodak Alaris delivers superior systems and solutions to automate business processes, enhance customer interactions and enable better business decisions.
For more information, please visit kodak.com/go/docimaging. Follow us on Twitter at twitter.com/kodakdi and visit our blog at infooverdrive.com/.
About Kodak Alaris
On September 3, 2013, the U.K. Kodak Pension Plan (KPP) completed its acquisition of the Kodak Document Imaging and Personalized Imaging businesses from Eastman Kodak Company and created a new company known as Kodak Alaris. The new company and its name preserve the heritage and legacy of the Kodak brand, while embodying greater speed and agility to meet market needs and changes. Kodak Alaris, which is licensed to use the Kodak brand, will focus on strategic, ongoing investments for these businesses to ensure long-term growth and success. The Kodak trademark is used under license from Eastman Kodak Company.