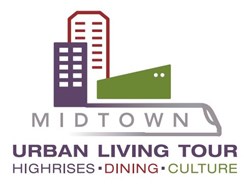 The Urban Living Tour will feature amazing homes and really highlight why Midtown is the prime Valley destination to combine live, work and play. - Kayla Dorland, Chateau on Central
Phoenix, Ariz (PRWEB) October 29, 2013
The Midtown Museum District Neighborhood Association is proud to announce the first Midtown Urban Living Tour to be held November 2 from 3 – 7 p.m. The event will showcase homes in six of Midtown's finest high-rise buildings and offer the rare opportunity for tour-goers to explore residences in: Artisan Lofts on Central, Chateau on Central, One Lexington, Regency House, Tapestry and Villa del Coronado. Also on the tour are the Phoenix Theatre and the historic Central United Methodist Church.
The tour is designed for participants to get a true feel in urban living and each venue is conveniently located within walking distance of the light rail. Bike racks will be available at each location and pedicabs will be on-hand for easy, urban transportation.
"Midtown Phoenix is home to a bustling business district, world-class museums and culture, fine restaurants, lush parks and a diverse mix of housing options," said Kayla Dorland, Chateau on Central. "The Urban Living Tour will feature amazing homes and really highlight why Midtown is the prime Valley destination to combine live, work and play."

Artisan Lofts on Central is a 40-unit condominium building offering spacious, contemporary style lofts, most featuring roof decks or large balconies.
Chateau on Central offers a truly metropolitan vertical-living experience in the heart of Phoenix with its beautiful five-story brownstones. Its architecture was inspired by the Rosson House located in Historic Heritage Square.
One Lexington is a collection of loft-style condominiums with modern concrete-and-steel construction. Once the Century Bank office building, it is an excellent example of adaptive reuse.
Regency House is a 22-story luxury condominium building and was one of the first high-rise residential buildings constructed in Phoenix. Its cantilevered balconies provide spectacular views of city lights and the surrounding mountains.
Tapestry on Central is a three-building, seven-story, high-rise offering two-story cityhomes, executive penthouses and expansive flats.
Villa del Coronado is one of the most sought after and unique co-op communities in Phoenix. Built in 1958, this wonderful example of Mid-Century modern design was added to the National Register of Historic Places in 2009.
Pre-sale tickets can be purchased for $12 online at UrbanLivingTourPHX.com and day-of event tickets will be available at Park Central Mall for $15. For more information on the Urban Living Tour please contact Susan Thompson at 602-318-7683 or susan.mmdna(at)gmail(dot)com.
# # #
Media Contact: Amber Liptai, Martz Agency, aliptai(at)martzagency(dot)com, 480-344-0163