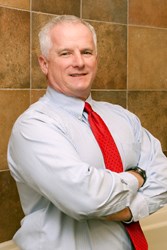 Texas City, TX (PRWEB) October 28, 2013
Texas City residents who need dental implants to replace lost teeth but are suffering from gum disease can look to Dr. Stephen C. Hale for a new laser gum surgery that gently removes gum infection and promotes healing. The Laser Assisted New Attachment Procedure (LANAP) uses laser technology to treat gum disease and prepare a healthy atmosphere for dental implants.
Not only does LANAP treat gum disease, but the laser stimulates jaw bone growth, causing the bone to refuse with the teeth roots. Teeth that are loose due to gum disease can be reattached and potentially saved. For teeth that cannot be saved, dental implants are the recommended option for replacement.
Jaw bone health is encouraged by the placement of dental implants, as the bone requires ongoing stimulation to remain healthy and prevent it from eroding over time. When teeth are missing, the bone in those areas does not receive this necessary stimulation. The titanium screw of a dental implant fuses with the bone to provide that action. If a lost tooth is not replaced or only replaced with a bridge or traditional dentures, the bone is at risk for resorption. When this happens, jaw misalignment and pain can result, as well as a misshapen appearance through the mouth or jaw area.
Periodontal health is an important component to overall dental and medical wellness. Dr. Hale takes pride in offering the latest in dental advances to provide patients with the best treatments and benefits possible. Anyone interested in learning more about LANAP, dental implants or other dental services can visit http://www.stephenhaledds.com or call his office today.
About The Doctor
Stephen C. Hale is a general dentist offering personalized dental care for patients in Texas City, TX for over 26 years. Dr. Hale received B.S. degree in biology from Stephen F. Austin College and his D.D.S. degree from the University of Texas Dental Branch at Houston. He continues his education today and is a member of professional dental associations. Dr. Hale is part of one percent of dental professionals providing the only FDA cleared laser procedure for gum disease and periodontal treatment. To learn more about Dr. Hale and his dental services visit his website at http://www.stephenhaledds.com and call (409) 229-4184.