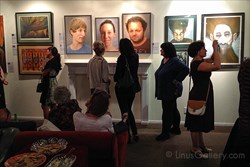 It's extremely rewarding that the art community has recognized and praised us for all of our hard work
(PRWEB) October 31, 2013
Linus Galleries, a Los Angeles art gallery, has claimed since they first opened their doors in October 2011, that they weren't your ordinary art gallery. Linus prides themselves on equal opportunities for all artists and their unique approach and tireless efforts to continually promote their artists through various social media, video outlets and blogs.
The buzz of the art gallery has spread as submissions to their call for entries continue to increase with artists from all over the world that are eager to work with the gallery. "It's extremely rewarding that the art community has recognized and praised us for all of our hard work in trying to create a really special gallery" says owner and curator of the gallery and fine art photographer Linnea Lenkus.
October 4th marked the last show of the year for Lenkus' contemporary art gallery, with its live art exhibit entitled "Silent Communication" which was comprised of a variation of local and international artist defining the profound interpretation. Many of the participating artists flew in from all over the world to be there for the reception. This gave way to sharing their process and mindset behind the making of their pieces. "Just walking through the crowd you could hear enthusiastic artists dissecting their art for those who were curious" says gallery director Julianna Calin.
Singer-songwriter Alyssandra Nighswonger performed her folk music throughout the night while watercolor artist Tina Dille shared her technique in a live art demonstration. Dille said "Linus Galleries makes this portion of the art process a real bonus. I truly appreciate the promotional resources Linus Galleries provides their artists such as live video clips of interviews during the art receptions and the opportunity to schedule a free private photo session with the talented professional photographer Linnea Lenkus."
Dille among many of the other artists took Lenkus up on her offer of a free portrait session continuing her Artist Portrait series. Lenkus says "This series is a way to thank the artists involved by giving them great images to use on their website and it also gives us another way to feature them and their incredible art!"
Currently the gallery is working hard to put together their 2014juried exhibition list that has been said to inspire artists to create artwork specifically for the calls. Whether the theme is a standard favorite such as "Portraits 2014," an iconic theme such as "Ode to Tinsel Town" or an enticing theme such as "Taboo," Linus continues to excite and support artist all over the world.
About Linus Galleries
Linus Galleries was started in 2011 by the highly experienced and internationally published Los Angeles portrait photographer, Linnea Lenkus. Linus Galleries gives the opportunity to be in both online and live juried art exhibitions to artists worldwide. Galleries are located in Pasadena and Long Beach, California.