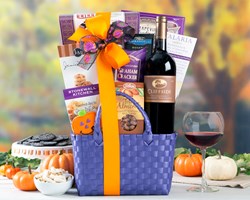 We have a lot of fun with this holiday.
Fullerton, CA (PRWEB) October 29, 2013
Halloween is no longer just for the kids. We're not sure when it happened, but it's now quite a different holiday than it was 30 years ago. People decorate their homes, create haunted houses and throw big parties. According to the National Retail Federation Halloween survey, overall, average spending on Halloween has increased 54.7 percent since 2005 and almost 44 percent of adult respondents to this same survey said they are planning to dress up this year.
Of course this is great news for retailers and Wine Country Gift Baskets has responded by creating two new Halloween wine baskets for all those adults that will be celebrating this year. Cliffside Vineyards merlot or chardonnay Halloween gift baskets are filled with chocolate, cookies, crackers, nuts and a Jack-O-Lantern cookie; this is not your typical Halloween gift!
And never one to forget about the kids, they also have an assortment of Trick or Treat Towers, Friendly Ghost Collections and other Spooky Delights. "We have a lot of fun with this holiday," says Steve Hofstetter, Wine Country Gift Baskets marketing analyst. "It allows our designers to get a little more creative than they might be able to get with your typical corporate gift basket or wine gift basket; everyone here has really embraced this holiday and loves to celebrate."
To send a Halloween gift basket, go to http://www.winecountrygiftbaskets.com. Gift consultants are also available by phone (800) 394-0394 or online chat.
About Wine Country Gift Baskets
Wine Country Gift Baskets, a division of Houdini Inc. headquartered in Fullerton, California, is a premier supplier of gourmet food gifts, wine gift baskets, holiday gift baskets, spa and fruit gifts and gift towers. Founded in 1984, they have been manufacturing and selling handcrafted, distinctive personal and corporate gifts for more than 25 years. Their Deals of the Day, Free Shipping Collection and everyday low pricing on their holiday gifts have earned them a reputation as The Best Value in Gift Giving. Their personalized, enthusiastic customer service, intuitive site design, Best Value and 100% Satisfaction Guarantees have earned them a Stella Service award. Gift consultants can be reached during business hours at (800) 394-0394 or visit their website at http://www.winecountrygiftbaskets.com.