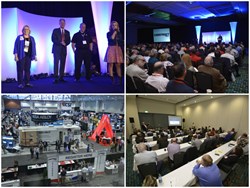 What a great venue [Music City Center]. The education opportunities were varied and interesting. The Host Chapter event was amazing and I really appreciated the opportunity to catch-up with old friends and make connections...
Dallas, TX (PRWEB) October 30, 2013
Hanley Wood Exhibitions recently wrapped up the 2013 edition of CONSTRUCT, in conjunction with the CSI Annual Convention, at the Music City Center in Nashville, September 24-27. The show surpassed all expectations in attendance numbers, total number of exhibiting companies and square footage of exhibit space while launching new and exciting products, equipment and events. In addition to providing valuable networking opportunities for attendees and exhibitors, 58 education sessions, a general session/keynote and two technical tours were available that offered AIA and GBCI credit.
CONSTRUCT, the only national trade show and educational conference for the commercial building teams that specify and source building products, attracted 3,049 attendees representing 18 countries (up 21% versus 2012) and showcased 221 exhibiting companies (up 6% versus 2012) with 60 new exhibiting companies in 29,900 net square feet of exhibit space.
"By all standards and measurements, CONSTRUCT 2013 and the CSI Annual Convention was a success," stated Tom Cindric, CONSTRUCT Vice President. "We continue to fine-tune the content and activities to anticipate the needs of today's commercial building professionals. There was a very positive and optimistic buzz on the show floor. Based on the feedback we have received from both exhibitors and attendees, we have no doubt that growth of CONSTRUCT will continue into 2014 and beyond."
"CONSTRUCT 2013 was a great success for both participants and the organization," Construction Specifications Institute (CSI) Executive Director and CEO Walter Marlowe, P.E., CSI, CAE, said. "CSI believes relationship-building among construction professionals and high-quality education are vital to achieving of our mission: advancing building information management and educating project teams to improve facility performance. A busy exhibit hall filled with conversation and high-rated, unique education sessions that help professionals advance is exactly who CSI is. We're very pleased."
About the Event
CONSTRUCT is your most cost effective strategy for combining educational opportunities with practical, real-world, product and service solutions for your business success. This event is dedicated to the institutional, industrial and commercial building industry. CONSTRUCT offers a relevant, accredited education program, an expansive exhibit hall floor filled with the latest services, products and technologies, as well as a myriad of networking opportunities. In conjunction with the CSI Annual Convention, the event is coupled with technical tours, activities and special events. CONSTRUCT is the only dedicated national event specifically designed to provide the commercial building team real-world, practical product and education solutions. For more information, visit http://www.constructshow.com.
About the Sponsor
Construction Specifications Institute (CSI) is a national association dedicated to improving the documentation, management and communication of building information as used by the construction community. CSI accomplishes its mission through the development of construction standards and formats such as MasterFormat and UniFormat; the promulgation of those formats through master guide specifications and building information management (BIM) software; training and certification programs, including the Construction Documents Technology (CDT) and Certified Construction Contract Administrator (CCCA) exams; publication of Construction Specifier magazine; and an ever-expanding membership of decision-makers who identify and specify building product solutions. CSI members include a cross-section of specifiers, architects, contractors, suppliers and other construction project professionals who are touched by construction documentation. For more information, visit http://www.csinet.org or call (800) 689-2900.
About Hanley Wood
Hanley Wood, LLC is the premier information, media, event, and strategic marketing services company serving the residential, commercial design and construction industries. Utilizing the largest editorial- and analytics-driven construction market database, the company produces powerful market data and insights; award-winning publications, newsletters and websites; marquee trade shows and executive events; and strategic marketing solutions. To learn more, visit hanleywood.com.