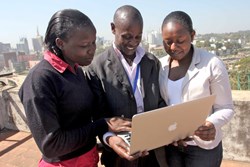 Elizabeth Lee, Senior Global Pricing Strategist at Fossil Group says, "We're able to gather and analyze data to meet our global business needs faster with DDD's support."
Nairobi, Kenya (PRWEB) October 30, 2013
Fossil Group is managing their business data--and empowering youth in Kenya--by contracting for data services with Digital Divide Data.
With 400 retail locations, 4,000 wholesale locations, and 13,000 employees worldwide, Fossil Group is well-known for providing American vintage inspiration. As they manage operations in markets around the world, Fossil requires accurate data to ensure that their collections are tracked properly. Fossil Group, together with the Fossil Foundation partnered with DDD Kenya for support.
DDD Keeps the Fossil Watch On Time
Digital Divide Data (DDD), known for its socially responsible business process services, maintains essential data for Fossil Group. DDD teams in Kenya manage data for Fossil's products worldwide--and organizes records in a timely and efficient way. As a result, Fossil's business runs like clockwork. Elizabeth Lee, Senior Global Pricing Strategist at Fossil Group says, "We're able to gather and analyze data to meet our global business needs faster with DDD's support."
Kenyan Youth Gain Work Experience and a College Degree
DDD's team in Kenya includes talented youth hired from the slum areas of Nairobi. They have been specially recruited and trained for these tasks--and also have an opportunity to attend college while they work. Fossil Group's business helps them to develop critical work skills and also enables them to pay for a part of their tuition through their earnings. Youth borrow part of the cost of tuition from a Kenyan government program. And, DDD enables the payment of rest of their tuition with a scholarship. You can help by joining the Skoll Foundation's Social Entrepreneurs Challenge at http://www.crowdrise.com/digitaldividedata-SE
DDD Creates a World of Digital Possibilities
DDD creates better futures for youth in emerging markets though employment and education. The organization is among the Top 100 NGOs in the world according to a 2013 ranking by the Global Journal, based on impact, sustainability and innovation. DDD's social enterprise provides education and jobs for disadvantaged youth in Cambodia, Laos, and Kenya using a sustainable business model called Impact Sourcing. This offers youth experience with digital work in a professional business plus the opportunity to complete higher education, including scholarships.
DDD's mission is to create better futures for disadvantaged youth through work and education. Your support for scholarships helps young people to graduate from university and leave poverty for good. To support youth to complete their education, please donate now to DDD's scholarship campaign at http://www.crowdrise.com/digitaldividedata-SE.
For more information about DDD's business solutions, please visit digitaldividedata.org.