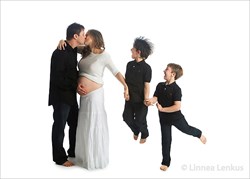 I remind clients to keep calm and relaxed at my photography sessions especially if they have children.
(PRWEB) October 31, 2013
Fall is here and for Los Angeles portrait photographer Linnea Lenkus that means the next few months will be extra busy as families rush around to get everything done including their family portraits. How does this busy photographer keep the stress out of her two Los Angeles portrait studios? "I remind clients to keep calm and relaxed at my photography sessions especially if they have children. A stressed environment with anxiety filled parents does not make for a good session for anyone involved," says Lenkus. "We also encourage clients to plan ahead and book their photography sessions early."
To kick off the holiday season the portrait studio announced that they were bringing back their art panels, a popular custom designed fine art photography product with a limited time discount. Other goodies the portrait studio is offering for the holidays are mini leather wallet books and digital brag books which are complimentary with every session booked during the next few months. "Technology is very convenient these days and the digital brag books are an exciting way for our clients to share their beautiful photography anywhere at the touch of a button!" shares Lenkus.
The Del Mar Birth Center is also keeping the boutique photography studio busy by requesting Linnea's artwork for their new location that opened up this October in South Pasadena. "I can't think of a better way to celebrate new life than by filling the walls with Linnea's inspiring photographs of pregnancy and newborn portraits" shares studio manger Julianna Calin. "It's quite difficult to select which images to hang because she has so many incredible photographs to choose from" Calin said. The birth center will also be hanging a few pieces from the Los Angeles photographer's nature collection. The soothing photographs of flowers showcase Lenkus' excellent technique that combines depth of field and soft focus in such a way that they are often mistaken for paintings. These creative florals were chosen to calm the mothers-to-be in the birthing rooms. "I am always extremely flattered when a local business asks to hang my work in their space. It helps generate business and I am more than happy to share my art" says Lenkus.
About Linnea Lenkus
Los Angeles photographer, Linnea Lenkus, specializes in Maternity, Children, Family and Celebrity photography as well as Fine Art Nude photography. Linnea is a highly experienced, internationally published, professional photographer with worldwide commercial success. In a photography session with Linnea, clients receive the benefit of her artistic eye and her technical mastery honed over decades of photography experience. Linnea Lenkus is the owner of two fine art portrait studios located in Pasadena and Long Beach California and the owner and curator of Los Angeles art gallery, Linus Galleries. See a photography video of Lenkus in action.