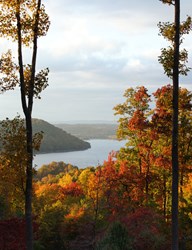 Rich vibrant colors of autumn are on display at Norris Lake.
Maynardville, TN (PRWEB) October 29, 2013
Late October and November are the ideal season to experience the vibrant colors of autumn that are on display at Norris Lake. Norris Reservoir is home to a variety of hardwoods which provide a beautiful fall experience. The mild temperatures of the day will provide a great day for visitors who wish to rent a pontoon boat from Beach Island Resort Marina or Hickory Star Marina. Other visitors might enjoy a hike through Big Ridge State Park, River Bluff Trail, or one of the multiple trails in Chuck Swan WMA. For the more adventurous visitor, Chuck Swan is also open to ATVs or for horse back riding.
Cabins and vacation homes are available to rent. After day of adventure, the crisp evenings lend themselves to a warm crackling fire and a night sky full of stars.
Come here, come home to Union County!