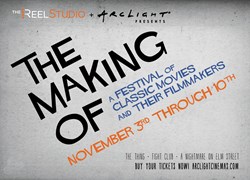 Los Angeles, CA (PRWEB) November 03, 2013
Have you ever wondered how your favorite films went from concept to classic? The Reel Studio and ArcLight Presents… The Making Of, a series of classic films and Q&As with the talented filmmakers behind favorite Classic Films starting November 3-5 at the Hollywood Arclight. The first line-up includes Wes Craven's A Nightmare On Elm Street with Emmy nominated composer Charles Bernstein (Inglourious Basterds, Kill Bill) on November 3, John Carpenter's The Thing and Escape from New York with producer Larry Franco (Batman Begins, 2012, Sleepy Hollow) on November 4, and Fight Club with screenwriter Jim Uhls (Jumper) on November 5. Tickets available at http://www.arclightcinemas.com. Tweet your questions for the filmmakers by using #themakingof.
The Making Of is a collaboration between Arclight Cinemas and The Reel Studio, a new film education platform, to bring the best films and filmmakers to movie lovers in Los Angeles. The Making Of features diverse filmmakers for the Q&As, from composers, producers, cinematographers, screenwriters, and more. Audiences can expect these iconic filmmakers to share behind-the-scenes details, how they got started, and insight into their specific crafts.
The Reel Studio will be recording all of the Q&As and making them available for free on their website, http://www.thereelstudio.com. Videos will be produced by Spinning Owls Productions and Umano Productions.