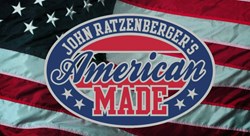 Los Angeles, CA (PRWEB) October 29, 2013
RealityTVStar.com, a reality TV production company, today announced that they will feature BuyDirectUSA.com in its new television show, John Ratzenberger's American. BuyDirectUSA.com is a company that promotes products made in America and the manufactures that produce them. Ratzenberger, a RealityTVStar founder, is well known for his role as everyone's favorite smart-aleck mail carrier on the popular 1980s television sitcom, Cheers.
BuyDirectUSA.com, a huge supporter of the American Made FundAnything Campaign, started in 1998 to promote and market companies that make their products in the USA and keep Americans working. The ultimate aim is to encourage manufacturers who have fled overseas to come back home and revitalize the American economy. The BuyDirectUSA.com website acts as a portal where consumers may locate American-made products and enable retailers to locate products made in America to feature in their stores. BuyDirectUSA celebrates their 15 year anniversary in November.
The American Made FundAnything Campaign was set up to fund the first few episodes of the new program. The production team will be crowd-funded by members of the general public who support the show's aim of promoting American made companies, the products they make and the people who make them. Ratzenberger and his team chose crowd funding to:

Promote American manufacturers and products
Build a relationship with fans and make them a part of the show
Demonstrate that Americans still believe in American Made.
In exchange for donations, fans will receive limited edition memorabilia, American-made products or on-set television experiences. Prizes include:
American Made TV poster – with the donor's name alongside others
100% organic cotton socks or T-shirts
Hardcore hammers
Personalized "Cliff Clavin" voice mail messages
Limited Edition autographed script from Cheers
American Made Super Bowl Party in Los Angeles with Ratzenberger and his pals
A VIP day on set
A chance to be an Associate Producer or Producer
The chance for your company to be featured on the show
Ratzenberger said, "The show will feature the best in today's American-made companies including local manufacturers, exciting new brands, cutting edge products and the household names we all know and love. You may be surprised to learn which of your favorite brands are actually American made!"
About RealityTVStar.com:
RealityTVStar.com is a reality television production company that uses Internet technology to offer everyday people the facility to upload videos to be discovered by RealityTVStar's team of producers. The company was founded by John Ratzenberger, Jeffrey Solomon and Shaun O'Hollaren.