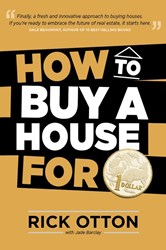 The message I got during the seminar series was that people are still looking for alternatives to the old-school method of going to the bank, cap in hand, and asking for a loan
(PRWEB) October 31, 2013
Despite just finishing a successful nationwide tour throughout October with his Australian property investment seminar series, real estate educator Rick Otton isn't taking a break. He is continuing his mission to help 10,000 Australians buy property without a deposit or a new bank loan, by making his Power Property Profits Pack available to the public as a complimentary download.
"The message I got during the seminar series was that people are still looking for alternatives to the old-school method of going to the bank, cap in hand, and asking for a loan," said Mr Otton. "It's no secret that the Aussie property market is heating up again, and as it does ordinary people are being squeezed out of the traditional home ownership avenues."
A new property bubble?
Rising Australian property prices alongside low vacancy rates and high mortgage clearance rates in most major cities are causing fears of a property bubble. For some property investors, this could signal tough times ahead, as the market gets tighter and more expensive. But, notes Mr Otton, this is the sign of the old way of thinking.
"I get to as many places as I can on the tour, and talk to as many people as I can, but I know there are so many more people out there who are still stuck in the old property paradigm," said Mr Otton.
"They think that real estate investing in Australia is about scrimping and saving for a huge deposit, and that you can't get growth and cash flow until you've had a property for years. That's why I'm making this pack available to people for no charge, so we can get the message out to as many people as possible," he said.
Packed full of information
As well as his best-selling real estate book, How To Buy A House For A Dollar, Mr Otton's Power Property Profits Pack gives insight into his non-traditional methods that have made him a real-life real estate millionaire. The pack, valued at $349, walks through Mr Otton's property investment strategies, including:

how buying a house doesn't have to mean getting a new bank loan
changing from negative to positive cashflow
a cheat sheet on getting those property discounts, and
a set of reports outlining bargains, capital versus cashflow, and renovating secrets from Mr Otton's successful students.
The pack is available for complimentary download from Mr Otton's website, HowToBuyAHouseForADollar.com.
About Rick Otton
For over 23 years property millionaire Rick Otton has built an impressive real estate portfolio using innovative strategies that he has developed – strategies in which transactions are made without the need for traditional bank-type loans. He constantly refines his techniques as he buys and sells properties through his We Buy Houses business which operates in Australia, New Zealand and the UK.
A gifted speaker and educator, Mr Otton conducts regular one-day free seminars across Australia, which build on the concepts he shares in his 2012 book 'How To Buy A House For A Dollar', voted by Money Magazine and Dymocks Book stores as one of the Top 10 Most Popular Finance Titles for 2013.
He regularly records and publishes iTunes podcasts via his channel Creative Real Estate.
His innovative low-risk, high-reward approach to Australian real estate investing has been featured in a variety of television programs and magazines, including Today Tonight, Hot Property and Australian Property Investor.
Rick Otton's Power Property Profits Pack can be downloaded now at HowToBuyAHouseForADollar.com or phone, in Australia, 1300 888 450