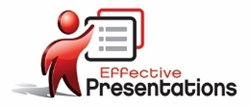 The single biggest problem in communication is the illusion that it has taken place. ~ George Bernard Shaw
Lakwood, CO (PRWEB) October 29, 2013
Continuing its commitment to teach others how to put their best public speaking foot forward, Lakewood-based Effective Presentations is bringing their premier Presentation Skills and Public Speaking Training to Kansas City, Missouri.
Through this dynamic workshop, men and women will learn key strategies to boost their communications and confidently deliver effective presentations in any venue.
"What I love most about these workshops is that they are dynamic, fun and engaging - not just for the participants, but for the trainers as well," says Mike Fruciano, Founder and President of Effective Presentations.
"No one wants to sit around and be lectured. Our workshops are designed to be stimulating, entertaining, and effective. Our goal is to transform our participants into strong, confident speakers able to use their newly acquired skills to succeed," Fruciano went on to say.
For more than 20 years, Effective Presentations has been a leader in presentation skills development, offering public speaking and presentation skills training workshops to individuals looking to improve their communications skills. These workshops are suitable for anyone and everyone, from salespeople and CEOs to volunteers who are called upon to deliver presentations and public speaking engagements.
Every participant receives hands-on experience and leaves the workshop armed with the technical expertise to become an effective communicator. Workshops are led by a nationally certified trainer, and time is spent with each individual creating and delivering a series of short, videotaped presentations. These presentations are then evaluated and critiqued, with constructive feedback to help the participant improve their technique as the training workshop moves forward.
"This experiential training platform has consistently proven to enable participants to incorporate their learning into future presentations," says Fruciano. "By identifying areas of improvement immediately, they are able to put into practice the key techniques that we provide. We pride ourselves on creating a supportive, fun environment, which makes it easy to learn and succeed."
Each of the essential verbal and non-verbal techniques of presentation skills are covered in every live training workshop, and at its conclusion each participant is given an Effective Presentations' exclusive Training Manual along with a professionally edited DVD chronicling the workshop experience and their recorded presentations.
For more information about Effective Presentations' Kansas City workshops, and upcoming dates and availability, visit http://www.effectivepresentations.com.