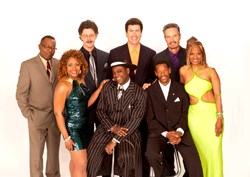 "It's always been natural for us to reach out and draw in the audience. We make the people feel they're part of the performance because they are," says Pride & Joy founder and bandleader Coleman Burke
Napa, CA (PRWEB) October 28, 2013
During its 25 years of phenomenal success, Pride & Joy has remained the most popular band on the Bay Area music scene. This group is the Pride of the Bay Area and a Joy to anyone who loves to dance. They have achieved this by presenting the most timeless pop/soul music of our time in an electrifying high-style show that pulls the audience directly into the heart of their performance.
This band can play anywhere from the most popular clubs on the circuit to wedding receptions the top society parties and corporate events everybody, everywhere, instantly relates to the music. "It's always been natural for us to reach out and draw in the audience. We make the people feel they're part of the performance because they are," says Pride & Joy founder and bandleader Coleman Burke. "That's what Pride & Joy has always been about – creating a great feeling in the room. That's as important a part of our show as the work we put into our look, choreography and arrangements."
Tickets for An Evening with Pride & Joy are $20 They are on sale now and can be purchased through the theatre website at http://www.uptowntheatrenapa.com, at Ticketmaster (http://www.ticketmaster.com) or at the theatre box office (please call 707.259.0123 ext. 6 for hours). To find out more, please visit http://www.uptowntheatrenapa.com.
The Uptown Theatre Napa is downtown's ultimate destination for live concerts. Nestled in the famed West End district, this stunningly restored art deco masterpiece showcases only the finest acts, featuring music, comedy and more. An historic landmark, the Uptown offers a phenomenal, intimate live show experience, with excellent site lines and world class sound and lighting. As concert venues go, this is the place to be. Every seat is a great seat so buy concert tickets now!