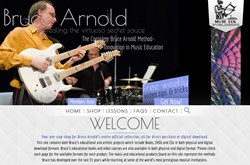 I'm lucky to have learned from Jerry and Charlie, and hope I can disseminate what they taught me, to even more people."
New York, NY (PRWEB) October 30, 2013
In his first 1995 release, "Blue Eleven" Guitarist/Composer/Teacher Bruce Arnold stated, "Jazz follows classical music and blues and rock follow jazz." Now he has concrete proof of that first phrase. While researching the mentors of his two greatest teachers (music gurus Charles Banacos and Jerry Bergonzi) he discovered a remarkable lineage starting in the 17th century.
(Click here to see the chart.)
The genealogy reads like a who's who of classical music. Perhaps the most pivotal figure being Carl Czerny, whose pedagogical output clearly documents his teaching techniques and beliefs. From his work, we can not only understand what his own influences were, but how he further influenced the work of future teachers. And it takes a fascinating turn in the 20th century. Starting with I. Vegorova (founder of the Curtis institute and teacher of the likes of Samuel Barber and Leonard Bernstein), the line then goes to Madame Chaloff, who taught a generation of great Jazz players (Jerry Bergonzi among them) teaching them many of the same techniques (including improvisation) that had been written by Czerny, still applicable, through today. She in turn taught Charles Banacos, who became a much sought after teacher and guru in his own right, in the Boston area.
But of the countless students of Banacos, who went on to forge high profile careers in jazz, only Bruce Arnold has concentrated on passing on what he learned from Banacos, by starting the Muse-Eek Publishing Company, where he could write and publish music educational books, videos, MP3s and PDFs, as well as creating an interactive teaching system. "I think I am the only one of Charlie's students who ever asked him for a reading list of the books that influenced him. I've included a link for that book list in my Music Educational Genealogy Chart Article."
The more he read up on the precursors of his mentors, the more he realized that the teaching techniques and information that Charlie and Jerry gave him, had started well back in the Baroque era, and set in print by Czerny. The theory, the approaches to playing, even the recommended mindset resonated from the past to the present. And he was in turn passing it on.
"Unfortunately, even though he was intrigued by computers and what they could do, Charlie was not computer literate," Says Arnold. "We spent many lessons discussing this. He was very curious as to how they could aid in the 'multitasking' of musical study." Now Muse-Eek one of the most comprehensive music education websites in the world. A complete discussion of how Muse-eek's content follows in Banacos' and Bergonzi's teachings, along with links to specific educational material is found on Arnold's Blogpage.
"I think Charlie would approve," says Arnold. "He was such a great teacher, and an example. I'm lucky to have learned from Jerry and Charlie, and hope I can disseminate what they taught me, to even more people."