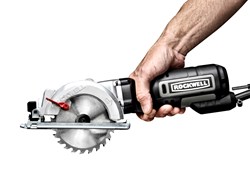 It's a small saw with full cutting capacity.
Charlotte, N.C. (PRWEB) October 29, 2013
Most homeowners aren't afraid to use a drill/driver or sander. But a full-size circular saw can be rather intimidating. Not so with the Rockwell® Compact Circular Saw, which weighs only 5 lbs. Its slim, inline grip design provides great comfort, balance and control. The compact saw also is easy to transport and maneuver, especially overhead.
"There's no reason for most do-it-yourselfers to lug around a bulky circ saw, when its use is required for only a small percentage of cuts," said Pete Denley, Rockwell's product manager. "The Rockwell Compact Circular Saw is a lighter alternative, minus the bulk. It's a small saw with full cutting capacity."
The saw's 4½ in., thin-kerf blade is less than half the thickness of larger 7¼ in. circular saw blades. Since this smaller, thinner blade takes less effort and motor strain to cut through materials, the 5 amp, 3500 rpm saw matches the performance of full-size circular saws.
The compact circular saw's lower blade guard is the same as those found on traditional circular saws for proven performance and dependability. There's a depth-of-cut adjustment lever for quick, accurate blade height setups up to 2 in.
Bevel cutting capacity of the compact saw is 0-45°. A push-button arbor lock allows fast blade changes. The saw has a 3/8 in. arbor.
The saw's maximum cutting depth at 90° is 1-11/16 in. and its bevel capacity at 45° is 1-1/8 in. In addition, the Compact Circular Saw has a dust extraction port and a 1¼ in. vac adapter for dust collection.
Rockwell Compact Circular Saw accessories include a 4½ in., 24-tooth, carbide-tipped blade, vac adapter, parallel guide, and hex key for blade changes. The saw also has a 10-ft. power cord. The compact saw is covered by Rockwell's new 3 year warranty.
The Rockwell Compact Circular Saw (RK3441K, $99.99) is available at http://www.rockwelltools.com and various online and big box retailers.