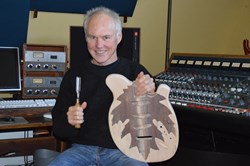 A new guitar design in the works
Rockwood Ontario (PRWEB) October 30, 2013
Robert's father Norm was the son of Alfred Edward Samson Seagrove, an English master cabinet maker whom immigrated to Toronto, Canada in the early 1900's while under the employment of the Franklin Legge Organ Company. Edward Seagrove, better known as Teddy, was responsible for carving out the beautiful cabinet work seen on many pipe organs which grace churches and cathedrals around the world to this day. Teddy also entertained people as he played the piano at his favourite local bar after work.
"While laying up a Hendrix cover track, I had decided before doing the session with Michael and James that it was time for a new guitar sound", says Robert Seagrove. "That combined with a serious brush with cancer this year got me to thinking that I had better get busy and finish a few things that I had been meaning to accomplish with my life. The first guitar that I had made with help from my dad when I was seven or eight years old wasn't really playable as far as traditional guitar scale goes. The frets were made from toothpicks, the body was made from maple veneer, plywood and the hardware was taken from my first guitar which was given to me by my parents a couple of years before that. It must have been broken or something though I forget. This one will definitely be different as I designed a unique way of wiring it. That combined with the new body design and choice of woods should do the trick. The body shape was designed around a silver maple leaf which I plucked from a tree in the yard. Though a maple leaf isn't necessarily symmetrical, this one was quite lopsided. The inlay is almost an inch thick and wasn't easy to carve that in there. It's great to be able to use some of my grandfather's old tools including the old chisel to carve out the inlay. I'm looking forward to hearing what it sounds like when I get it done within the next couple of weeks."
Seagrove's music is available at iTunes and other online music outlets. The new CD is scheduled to be released in 2014.