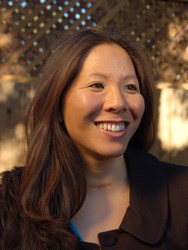 The day I was told that I had cancer, everything changed. I learned that every day is a gift.
San Diego, California (PRWEB) October 30, 2013
Jessica Jessup's life changed at age 23 when she was diagnosed with cancer. After beating the disease, she wanted to have better relationships with her loved ones and to see others do the same thing. Ms. Jessup partnered with her husband to launch Giftovus, a social platform where users brainstorm gift ideas with friends and validate them with the gift receiver's social circle. The service is aimed at saving Americans $19.7 billion this holiday season and $49 billion annually.
In 2006, at age 23, Ms. Jessup was diagnosed with thyroid cancer. She underwent two surgeries and radiation treatment to eradicate the disease. During the radiation treatment she was required to be isolated from other people, including her family, for days. "The day I was told that I had cancer, everything changed. It became more important to me that I never miss an opportunity to show people how much I cared about them again," said Ms. Jessup. "I learned that every day is a gift."
After completing a master's degree in engineering, she began to pursue entrepreneurship with her future husband, Brian Jessup. Their goal was to develop a business that would allow them to create a social impact and improve lives. Their search uncovered an opportunity to help people connect through improving the gifts that they give each other.
According to Giftovus, Americans spend 2.75 billion hours every holiday season searching for "perfect" gifts. Despite their effort, they still give a bad gift 20% of the time, a waste of over $19.7 billion dollars. Over the course of the entire year, gift givers will spend 6.96 billion hours on their gift giving decisions and waste $49 billion dollars in buying the wrong gifts. For a complete list of sources and details, please see Gifting by the Numbers. "Gifts are a wonderful chance to connect and express a relationship. Why waste them?" said Ms. Jessup.
Despite the many solutions the market has provided for finding a gift, from gift cards to gift guides, this waste still exists, indicating an unmet consumer need. Ms. Jessup believes the gap in the market reflects gift givers wanting to know more about the receiver and connect with them better before their purchases. Said Ms. Jessup, "If you want to radically improve the gift-giving experience, you have to start by improving the communication between the giver, the receiver, and the community as a whole."
On Giftovus, users brainstorm with the social circle of the receiver to discover gift ideas and get feedback. Friends and family are involved in every gift, creating a friend-sourced solution to gifting and enhancing the emotional depth of each gift. Giftovus users have seen a drop in the average cost of their gifts of up to 33%. Said one female user, age 29, "The right gift just costs less."
About Jessica Jessup
Jessica Jessup is a cancer survivor, an entrepreneur and an engineer. Proud of being a woman in technology, she uses her engineering and math skills to serve the public good and develop solutions that make the world a better place. Ms. Jessup is personally passionate about making every gift one that expresses feeling and an emotional connection. She holds a Bachelor's of Science in Bioengineering from the University of California, San Diego and a Master's of Science in Biomedical Engineering from the University of California, Davis.
About Giftovus
Giftovus, Inc is a social platform for gift givers. Created by Jessica Jessup and her husband Brian, Giftovus allows friends and family to connect and brainstorm gift ideas while validating them against the social circle of the receiver, all without the receiver ever knowing. The result is more accurate gifts, money and time saved and a stronger emotional connection among the givers and receivers. To learn more, visit giftovus.com.