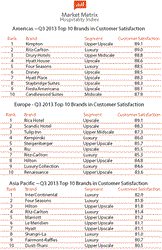 San Francisco, CA (PRWEB) October 29, 2013
Boutique US hotel brand, Kimpton Hotels & Restaurants, earned the top customer satisfaction score in the world during the third quarter, according to new data released today in the Market Metrix Hospitality Index (MMHI). A consistent top-performer in the Market Metrix customer satisfaction rankings, Kimpton was the biggest mover this latest quarter, improving overall customer satisfaction by nearly two points.
"There is nothing more important to our mission to be the best loved hotel company than how our guests feel about us," commented Mike Depatie, CEO and President at Kimpton Hotels & Restaurants. "We listen carefully to our guests, and take care of people in a way that requires our willingness to create real relationships with the guests in our care. It's absolutely thrilling to see the commitment of the Kimpton team reflected in these terrific scores."
According to Dr. Jonathan Barsky, Co-founder and Chief Research Officer at Market Metrix, "Kimpton has achieved what few other brands have. They stand out in the crowded leisure industry. Guests love Kimpton's properties – European-style gems with flair. But they are also attracted to their committed, welcoming staff."
MMHI data is collected from more than 40,000 travelers around the globe each quarter. Guests provide over 200 details about their most recent hotel and casino experiences. The MMHI customer satisfaction score is based on the average rating of 14 product and service questions that are highly correlated with guest loyalty and recommendations.
For more results from the Market Metrix Hospitality Index, visit http://www.marketmetrix.com.
About Market Metrix
Market Metrix is the leading provider of customer and employee feedback solutions for hospitality companies around the globe. By connecting feedback with revenue, Market Metrix helps hospitality businesses make smart investment decisions that both improve the guest experience and produce higher profits. Real-time feedback and action management drive timely service recovery, turning potential negative reviews into online raves. And no other feedback program offers the detailed global benchmarking of MMHI, allowing clients to spot gaps and opportunities in the context of key competitors. Market Metrix is essential to more than 14,000 businesses in over 70 countries, and has been helping forward-thinking executives profit from feedback since 1996. For more information, visit http://www.marketmetrix.com.