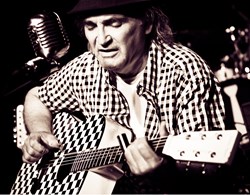 "We saw Eric in Ohio and it was simply mind blowing... every song was different and we went crazy when it got to the slap style stuff!"Doug Lerner, Ohio Sound
Boston, MA (PRWEB) November 06, 2013
Pop Americana Artist Eric Sommer puts the blinkers on The Blazer and pulls into Arlington, VA on November 13th for a special 10pm short set at IOTA Club and Cafe.
This special show catches Eric between Philadelphia, Bloomington, Indiana and Austin Texas, where he heads for The Slab Music Series which begins on November 21. Eric is on the bill Nov. 22, 29, Dec 6 and Dec 13 at The Slab from 7-10pm.
Eric Sommer brings a handful of songs and a few guitars to IOTA on Nov. 13th around 10pm to promote the new record "Rainy Day Karma" and to test out new songs for another upcoming spring release. This special show will be a treat for local guitar players and anyone appreciative of open-tunings, explosive technique and a remarkable slide and lap-slap style that is vintage Eric Sommer.
European tours, US tour dates and a constant schedule keep Eric Sommer in the front of the American music scene; years on the road have produced a wealth of songs and compositions which are personal, introspective and yet encompass a larger, national view.
Mr. Sommer is also the author of two collections of prose and commentary titled "Red Chairs" and "Black Pancake". Red Chairs celebrates the American experience with candid views of rural and industrial American life on the urban plains and the title poem is about "Waffle House". Black Pancake references a huge black thundercloud that hovered over the town of Newburg, New York in the Hudson Valley.
These songs are visual fabric to the American narrative of freedom and creative expression, making message and content work effortlessly with technical skill and musical inventiveness. It's a remarkable combination.
IOTA Club and Cafe is a venerable music institution located at 2832 Wilson Blvd Arlington, VA 22201 in Arlington, Virginia. The venue has been located there for years and continues to put forward indie bands and unique musical acts.
Eric started his musical career in the Boston area and has been a regular player on many national tours and showcases. He worked in Europe for two years on Danish, German and British rock stages, returned to Boston and formed The Atomics, a cult power-pop band in South Boston. His influences are as diverse as Townes Van Zandt, Steve Earle, Steve Howe and The Ramones. Mr. Sommer's current project with power trio "The Solar Flares" shake up Chet Atkins and David Bromberg influences with those of Randy Travis and British Rocker Elvis Costello - a remarkable mix.
With open tunings, slide guitar, lap-slap tone guitar and a remarkably aggressive fingering style approach, watching Eric Sommer will make you jump out of your seat and holler for joy! There are very few players who have maintained this authentic American style of guitar and Eric Sommer is one of the very best.
____________________________________________________________________________
For music samples please visit Eric Sommer online for additional schedules or contact him at eric(at)ericsommer(dot)com or call 202-255-1995. Additionally, you can find Eric Sommer on Facebook@ericsommermusic and twitter@itsericsommer. RAINY DAY KARMA is also available on iTunes and CDBaby.
Eric Sommer is represented by Clyde is Thinking, and PR programs are managed thru MTG/NY; For more information, promo/appearance requests or to set up an interview, please contact Tom Monihan 202-255-1995.