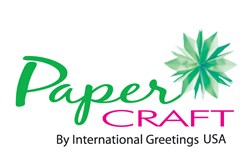 Midway, GA (PRWEB) October 29, 2013
PaperCraft Products, the prominent worldwide greeting card division of International Greetings, will be present at the Asia America Trade show this coming October 1st-3rd to promote their new and exciting line of over 250 products for both Asian and Hispanic markets. There, both retailers and special buyers can see new seasonal and special wares, including stationary, gift roll wrap and greeting cards.
International Greetings has produced products for broad worldwide markets over the course of three decades and is now focused on connecting with the growing and dominant Asian and Hispanic markets. "Asian markets make up more than 50% of the pie, while Hispanic markets constitute another 15% or so. This is, of course, significant. We must address their modern greeting card needs, as consumer spending increases now – and in the future," explains sales director Warren Herscovitz. Their design team has created colorful and exciting products to attract those markets.
From greetings cards to stickers and gift bags, PaperCraft will utilize five combined vendor spaces to showcase their beautiful wares this year in Miami. Since most of the company's focus is on mainstream low to moderately priced products placed in dominant retail chains, like Target and Wal-Mart, as well as their international equivalents, PaperCraft has secured intellectual property rights to fun and recognizable characters from such sources as Sesame Street and others. These and other elements have helped to generate key sales around the globe.
Amongst PaperCraft's huge rollout of items include those for Valentine's Day, Mother's Day and Graduation – which all work in international markets. These and other universal holidays and greetings events enable the company to make generous offerings across-the-board. Several of the products offered are available in Spanish language.
Buyers can contact PaperCraft directly to set up an appointment at the Asia America trade show by emailing: papercraft(at)intgusa(dot)com or by calling 770.551.9727, extension 185.
Founded in 2010, PaperCraft by International Greetings USA is amongst the largest stationery, giftwrap and greeting card designers, importers, manufacturers and distributors in the world with offices and operation bases in the U.S.A., United Kingdom, Europe, and China.
The PaperCraft team is available for both mainstream national and regional online, print, radio and television interviews. Images and information about PaperCraft are available on: http://www.papercraftproducts.com.
Contact:
PaperCraft‎ Sales Office
C/O International Greetings USA
3 Ravinia Drive, Suite 250
Atlanta, GA 30346
T:770-551-9727
F:770-512-7660
http://www.papercraftproducts.com