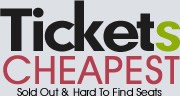 Tickets-Cheapest.com offers tickets for major new concerts including 2 more Eagles Tour shows in Sacramento and San Jose, the first stop for the Billy Joel 2014 Tour in Sunrise FL, Luke Bryan & Jason Aldean shows.
Sacramento, CA (PRWEB) October 30, 2013
The Eagles Sacramento and Eagles San Jose concerts join 6 Eagles shows at the newly renovated Los Angeles Forum to total 8 California performances. These shows in January 2014 look to cap the Eagles Tour 2013 with a special flare. Note these new tour dates as January 28, 2014 at the Sleep Train Arena in Sacramento and January 29, 2014 at the SAP Center in San Jose. A major Eagles Tour stop comes up soon on the east coast. In November 2013 the Eagles New York City concerts at Madison Square Garden include three tour dates that ranked as some of the hottest tickets on the resale market for a while. Eagles Sacramento tickets and Eagles San Jose tickets go on sale Saturday.
The Billy Joel Tour 2014 comes to the United States with more mystery than fanfare. The first Billy Joel concert to test the waters took place in a small theater on Long Island with almost no notice. Rumors about shows in both Sunrise Florida near Fort Lauderdale and Jacksonville continue to swirl with only a single show in Sunrise January 7, 2014 confirmed officially so far with tickets on sale Saturday. Will this Billy Joel 2014 Tour visit 50 arenas all over North America? Will he play a few shows in Florida and return home? Fans await these answers.
Luke Bryan's notoriety as a country music artist seems to just keep on rising. Following up hits such as I Don't Want This Night To End, Drunk On You and The Only Way I Know, Luke Bryan hopes to launch more singles to the top of the charts from his new album called Crash My Party. The new Luke Bryan song, also called Crash My Party, already has fans excited. While the Luke Bryan tour will surely feature many of his new songs, those attending will likely hear some old favorites too. Luke Bryan concert tickets on sale this weekend include shows in Atlantic City, Lexington, Greensboro, and Uncasville CT at Mohegan Sun Casino. Concert tickets for these four new tour dates go on sale Friday.
A Jason Aldean tour starts for 2014 when Jason goes from the CMA Music Awards show to sing one special performance at the George Strait concert January 10, 2014 in the Frank Erwin Center Austin TX. Following the two Moline shows comes the Jason Aldean Fayetteville concert, with tickets on sale Friday. After a few more stops the tour plays two Jason Aldean Bloomington IL concerts at US Cellular Coliseum also with tickets on sale Friday.
Tickets-Cheapest.com operates in the ticket resale market, similar to sites like StubHub, which concert fans may be familiar with, only with cheaper prices than other such sites. Often Tickets-Cheapest.com sells the exact same seats as other resale sites, and in an exact seat price comparison, Tickets-Cheapest.com proved its rights to the name by beating 25 out of 25 competitors for low-priced tickets. Give Tickets-Cheapest.com a try for great prices to see great performances. Check out Tickets-Cheapest.com for all ticket needs when looking for seats to sold out concerts. For the most popular shows they offer a large inventory of seats with costs less than other resellers including concert ticket prices better than Stubhub including premium seats and floor tickets. This weekend marks a great time to think about a show with The Eagles, Billy Joel, Luke Bryan and Jason Aldean all putting tour dates on sale for the public to buy.
About Financial Firebird and Cheapest Tickets
The site to buy cheap tickets online, and its sister sites, including the site to purchase New York Broadway show tickets like Motown Broadway, all geared for the consumers looking for low prices, are affiliated with the Financial Firebird Corporation Travel Group, and stand among the top sites sought by travelers and people who enjoy concerts, pro sports and theater performances. Financial Firebird Corporation, established in 2000 and a proud BBB member, provides unbiased consumer information particularly involving personal unsecured debt or mortgages, software and marketing services. These sites for consumers to buy tickets online operate in the resale market and maintain no relationship with the venues or performers. The resale ticket market allows consumers access to popular events once the box office has sold out or to buy premium seats when the venue no longer offers any inventory. Within the group of these secondary market ticket services, the Financial Firebird owned ticket sites offer lower prices than competitors. Find the site at Tickets-Cheapest.com.