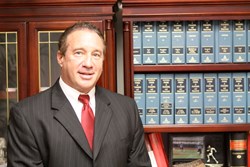 Irvine, CA (PRWEB) October 29, 2013
Anaheim personal injury lawyer Joseph M. Tosti has joined the small preeminent group of attorneys that make up the Million Dollar Advocates Forum for leading cases that have individually won over one million dollars each. Additionally, as a lead lawyer on such cases, Tosti has importantly "accomplished superior results in complex cases," according to MDAF.
While his team has collectively made great strides amongst the cases they have tried or settled, as an Anaheim personal injury lawyer, Joseph M. Tosti has made his own indelible mark with several successful cases over the last three decades in the region. These include several high profile medical malpractice cases, major personal injury cases, automotive accident cases and several cases in other practice areas.
The MDAF was founded two decades ago in early 1993 by lawyer Donald F. Costello to distinguish the best attorneys in their field. To get in, the qualifications require lawyers to submit trial verdicts, awards or settlements statements. This can be difficult when some cases are confidential, but most who apply can send primary information without revealing key case defendants, witnesses or ancillary personal. After thorough review from Costello, a finite few become members.
While Tosti is delighted to become a member, he stresses that the dollar threshold is not the reason to join. "The organization really marks the results of a lot of hard work that lead counsel has to perform in their course through high-pressure, weighty cases. While the money reflects damages rendered, membership is about a lawyer who gets great result in an unusually difficult case."
Top personal injury lawyers Joseph M. Tosti and his legal team have collectively won over $60 million for his clients and have rendered swift justice in the process. With three locations in Orange County, the Tosti team has represented hundreds of diverse clients and cases.
The law offices of Joseph M. Tosti team is available for both mainstream national and regional online, print, radio and television interviews