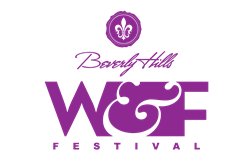 The Chef of the Century sends his culinary master team to Beverly Hills.
Beverly Hills, CA (PRWEB) October 29, 2013
The Beverly Hills Wine & Food Festival the culmination of all the great wine and food festivals closes out the year with a star studded line up of chefs and restaurants. The taste of ultimate luxury hosted by none other than the man of luxury himself Mr. Robin Leach bringing Champagne Wishes and Caviar Dreams back to Beverly Hills. The festivities also include chef tasting dinners planned at the city's top restaurants and hotels.
Nobody parties like Beverly Hills. And nobody throws a better party than the Beverly Hills Wine & Food Festival. This year's organizers have announced that the festival will feature offerings from the private reserves of the finest producers of wine & spirits, and are to be accompanied by the culinary talents of only the most exceptional restaurants. Confirmed sponsors include the world famous Joël Robuchon Restaurant at MGM Grand Las Vegas, MR CHOW, Tom Colicchio's Craft Los Angeles, Beverly Wilshire A Four Seasons Hotel, Bouchon, Jean Marie Auboine Chocolates, Chaya, THE Blvd Restaurant, 9021PHO, DeLuscious Cookies & Milk, GoodieGirls, Pacific Dining Car, STK Los Angeles, Bagatelle LA, and Celebrity Cruises.
November 15 5pm to 8pm Mixology After Dark
November 16 1pm to 5pm Grand Tasting
November 17 1pm to 5pm Grand Tasting
Guests have the unique opportunity to experience guilt-free opulence while benefiting charities and organizations that have made measurable strides in helping the less fortunate.
Join California winemakers featuring the #1 Pinot Noir in the world to cognacs and champagnes from France. The tasting included Napa wineries specialized in producing small lots and the larger recognizable brands.
For further information and to reserve your tickets to this sell-out event, visit http://beverlyhillswineandfoodfestival.com. Give yourself the gift of experiencing the finest food & wine that Beverly Hills has to offer, while you help create positive change in the world.
About Hyatt Regency Century Plaza
Located at 2025 Avenue of Stars in the heart of Los Angeles' fashionable Westside, Hyatt Regency Century Plaza is often frequented by celebrities, politicians and dignitaries. All of the hotel's 726 guestrooms and suites offer a modern décor with residential touches. Hotel amenities include: a one of a kind, ground level, VIP Regency Club; a Starbucks Coffee Bar; a state-of-the-art Equinox Fitness Club & Spa; the famous Lobby Court & Patio; Les Clef d'Or Concierge staff; an infinity edge pool; on-site Hertz rental desk and 24- hour in –room dining service. For reservations and more information, call: 310-228-1234. For reservations at any Hyatt hotel worldwide, call 800-233-1234 or log onto http://www.Hyatt.com.
About Hyatt Regency
Hyatt Regency offers a full range of services and facilities tailored to serve the needs of meeting planners, business travelers and leisure guests. Properties range in size from 180 to over 2,000 rooms and are conveniently located in urban, suburban, airport, convention and resort destinations around the world. Hyatt Regency convention hotels feature spacious meeting and conference facilities designed to provide a productive environment allowing guests to convene and connect. Hyatt Regency hotels in resort locations cater to couples seeking a getaway, families enjoying a vacation together and corporate groups seeking a functional and relaxed atmosphere in which to conduct business and meetings.
About Celebrity Cruises
Celebrity Cruises' iconic "X" is the mark of modern luxury, with its cool, contemporary design and warm spaces; dining experiences where the design of the venues is as important as the cuisine; and the amazing service that only Celebrity can provide, all created to provide an unmatchable experience for vacationers' precious time. Celebrity Cruises' 11 ships offer modern luxury vacations visiting all seven continents. Celebrity also presents immersive cruisetour experiences in Alaska, Australia/New Zealand, Canada, Europe and South America. Celebrity is one of five cruise brands operated by global cruise vacation company Royal Caribbean Cruises Ltd. For more information, dial 1-800-437-3111, visit Celebrity Cruises, or call your travel agent.
About Auto Gallery
At The Auto Gallery we take pride in everything we do. We offer cars to the greater Los Angeles area, from Santa Monica to Pasadena; and from Santa Barbara all the way down to the OC. We have stores in Beverly Hills, Woodland Hills and Calabasas. With brands including McLaren, Ferrari, Lamborghini, Pagani, Porsche, Audi, Maserati and Fiat, we're your first choice for a new or CPO vehicle. And when you buy from the Auto Gallery, you become part of The Auto Gallery family, with access to our events and offers throughout the year. With us, it about more than just a car. It's the lifestyle.
About McLaren
Drawing on 50 years of racing success, McLaren has created some of the most iconic and exhilarating road cars the world has ever seen. The 12C is the first McLaren designed and built production car since the legendary F1. A pure McLaren, its innovative design and Formula 1™ inspired technologies make it one of the most versatile and potent supercars on the road
The 12C was created at the McLaren Technology Centre in Woking, UK under the same roof as McLaren Racing and the Vodafone McLaren Mercedes Formula 1 team, so it's no surprise that 'performance' lies at the heart of the 12C and the McLaren Automotive team responsible for its design, development, engineering and now manufacture. The 12C's performance is clearly influenced by the McLaren F1 and Mercedes-Benz SLR McLaren road car projects. Most notably, in the competitive step-changes seen on the 12C through carbon composite engineering, packaging, and aerodynamics.
Nothing drives like a McLaren because nothing has been designed quite like a McLaren. In McLaren's language, convertible does not mean compromise. Reduced weight doesn't mean reduced strength. Power doesn't have to come at the expense of efficiency. Dynamic handling doesn't mean you have to sacrifice road comfort. No other sports car on the road today adheres to such an uncompromising philosophy. But then there's no other groundbreaking technology company quite like McLaren.
About the James Beard Foundation
Founded in 1986, the James Beard Foundation's mission is to celebrate, nurture, and honor America's diverse culinary heritage through programs that educate and inspire. A cookbook author and teacher with an encyclopedic knowledge about food, James Beard, who died in 1985, was a champion of American cuisine. He helped educate and mentor generations of professional chefs and food enthusiasts, instilling in them the value of wholesome, healthful and delicious food. Today the Beard Foundation continues in the same spirit by administering a number of diverse programs that include educational initiatives, food industry awards, scholarships for culinary students, publications, chef advocacy training, and thought-leader convening. The Foundation also maintains the historic James Beard House in New York City's Greenwich Village as a "performance space" for visiting chefs. In September of 2012, the Foundation launched the Diplomatic Culinary Partnership with the U.S. Department of State's Office of Protocol and helped create the American Chef Corps as a way to champion American chefs abroad, promote American food products and foster an interest in American culinary culture and history through international programs and initiatives. For more information, please visit http://www.jamesbeard.org. Find insights on food at the James Beard Foundation's blog Delights & Prejudices. Join the James Beard Foundation on Facebook. Follow the James Beard Foundation on Twitter .
Event Contact: Alan Semsar alan(at)barcelona(dot)la 818-288-4050
Hotel Contact: Adrienne De Vore adrienne.devore(at)hyatt(dot)com 310-551-3299