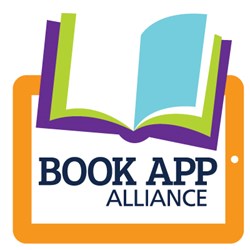 Finally, parents and teachers will have a way to find wonderful, quality, interactive books in the app stores for kids. The BAA stresses book apps that are educational yet fun.
Austin, TX (PRWEB) November 01, 2013
The Book App Alliance is working to raise awareness of book apps and to help parents and teachers better navigate the confusing array of resources for quality children's book apps. Book App Alliance members are authors, parents, teachers and industry leaders who have joined together their talents, resources and experience to improve the ways book apps are discovered, created and enjoyed.
Karen Robertson, president of The Book App Alliance recalls,
"First, we were finding that many parents didn't know what book apps were, but when we'd show them, they were blown away and wanted to know more about book apps and where to find them. So a group of us decided to create an organization that would help educate parents and teachers about what book apps actually are, how to use them in the home and classroom, and where to find quality and innovative book apps that will delight and educate kids, everywhere."
"Book apps are different than eBooks because they are more interactive and engaging. Book apps are enjoyed on a touch screen mobile device such as an iPad or Galaxy table, and even on many mobile phones. Book apps deliver a more entertaining reading experience with touch, sound, and visual animation within the narrative to engage the reader in a more immersive way," Robertson said.
Other Book App Alliance Board Members:
Chris Pederson, creator of Purple carrot books.com, has joined the Book App Alliance as a board member in charge of membership. She brings experience as a book app author and educator having written in print and digital formats with an emphasis on healthy life skills. Chris blogs about health, her heart passion, and dishes out recipes and tips to achieve optimum wellness at HealthyJourneyCafe.com
Cary Snowden is a Book App Alliance board member responsible for technology and sponsorships. He is the author of award winning book apps that were created entirely with DIY tools and resources.
Michelle Anaya is our Book App Alliance board member heading up press and strategic relations. Michelle is an author of several book apps featuring interactive stories to reach reluctant readers which will help foster a lifelong love of reading. She brings a creative background in art and graphic design and is instrumental in helping establish the Book App Alliance branding and marketing.
Melissa Northway is our board of director's social communications director. Melissa is the creator of the Dandelion Moms network of parents and an experienced author and book app marketer. She brings an unprecedented experience with online and traditional social marketing.
Alexis Purcell is a Book App Alliance board member responsible for iTunes reviews and promotions. Alexis is an award winning author who has achieved independent success often reserved for well-established corporate brands. Alexis understands the power of online review and promotional marketing.
Cyndie Sebourn is a National Board Certified Teacher and creator of Apps With Curriculum. She joined the Book App Alliance board as a liaison to the education market. Cyndie has valuable experience with Common Core State Standards (CCSS) that help align book apps with curriculum standards for schools.
The Book App Alliance is working with industry leading review site, Digital Storytime, to help parents and teachers find quality books. "There's a dearth of book apps and many of the innovative ones are hidden in the App Store because they aren't tied to big brands like Disney, Dora or Dr. Seuss," said Carisa Kluver, founder of Digital Storytime. "One of our goals is to shine some light on these hidden gems."
Parents and teachers can learn more about book apps and children's book app authors can apply to be members at the Book App Alliance online. (http://www.bookappalliance.com/authors/application-form/)
For more information on the Book App Alliance, visit http://bookappalliance.com.
Apps with Curriculum: http://www.appswithcurriculum.com