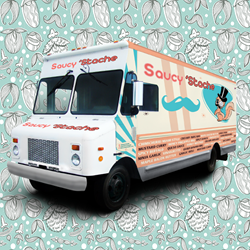 Saucy 'Stache food truck invites you to try some great food, with some unique sauces like guava banana barbeque.
Miami, FL (PRWEB) October 30, 2013
Young culinary school graduate Nichole Mantelle was disheartened with the food industry. Each job she landed in a kitchen had been the same thing, pre-packed entrees being reheated and served. Inspired by the growing street food movement in South Florida, she and her sister Michelle sought to create a menu that would speak to all ages and tastes.
Saucy 'Stache (the 'stache is short for mustache) was soon born, a food truck who's menu is styled like a choose-your-own-adventure novel. Pick your entrée (steak, chicken, shrimp, or tofu for vegetarians), pick your side (salad, rice, mashed sweet potato, or garlic roasted potatoes), and then choose the sauce that will flavor the entire dish. The sauces range in flavors - from traditional Ranch and Honey Mustard, to exotic flavors like Guava Banana Barbeque and Maple Bacon Butter.
The food truck is a colorful, 18-foot artisanal kitchen on wheels. The Saucy sisters are already planning unique "dippers" to compliment their sauces, like slow cooked chicken wings and stuffed pickle poppers. They have joined alongside Miami's finest in food truck event organization – Burger Beast, Food Truck Invasion, and Food Truck Collective – to serve their brand of street fare to Miami, Broward, Davie, and Homestead alike.
Some upcoming appearances for the Saucy 'Stache food truck are:
Nov 1 – Food Truck Fridays at Motortrend in Davie
Nov 2 - Food and Rock Festival at Palmetto Bay Village
Nov 6 – SHOTS bar in Midtown for Ladies Night
Nov 11 - Arts Park in Hollywood
Nov 14 - Funky Buddha Brewery
Nov 16 - Magic City Casino
Nov 23 - Auto Con Car Show in Hallandale
Nov 24 - Funky Buddha Brewery (a Movember fundraiser)
More can always be found by visiting their website http://www.saucystache.com or by following them on Twitter (@saucystache).