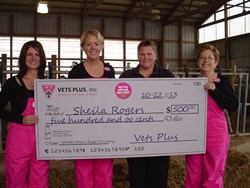 Menomonie, WI (PRWEB) October 29, 2013
Representatives from Vets Plus, Inc. presented Sheila Rogers of Hy Ridge Holsteins, LLC with a check for $500 for hiring a milking service for her dairy. The campaign "Vets Plus will milk your cows!" was held at this year's World Dairy Expo in October with the intent of giving one producer a break from milking for the weekend. Over 260 visitors to the booth registered to win the drawing.
Outfitted in pink UdderTech milking bibs and cow-spotted boots, Vets Plus "milk maidens," employees Tracy Nelson (Calf Specialist), Lori Mirmesdagh (Graphic Designer), and Cherie Grandt (Director of Marketing), greeted visitors to the booth during World Dairy Expo and answered questions about the company's products and manufacturing capabilities. Grandt said, "World Dairy Expo is always a great time to interact with our customers and get their feedback on our products. I was delighted to hear of the many success stories from users of Probios® and our other brands. The drawing just made it more fun! We know how hard our customers work and wanted to be able to give them a break."
Ridgeland, Wisconsin, dairy farmer Sheila Rogers was thrilled to receive the prize. Nelson, Grandt, and Mirmesdagh delivered the check to Hy Ridge Holsteins on October 22. Rogers regularly uses Probios® probiotic products manufactured by Vets Plus for her calves. Hy Ridge Holsteins milks 300 cows in a double 12 parlor and also farms 800 acres of cropland. Rogers said she looks forward to attending World Dairy Expo in Madison every year for the wealth of information available and enjoys getting away from the farm for a few days.
About Vets Plus, Inc.
Vets Plus, Inc. (VPI), located in Menomonie, Wisconsin, is a leading manufacturer of health and nutritional supplements for both food and companion animals. With over 20 years of experience, Vets Plus creates custom formulations for contract manufacturing of innovative probiotic, prebiotic, nutritional, and nutraceutical products in a wide variety of feeding forms. Vets Plus is proud of its continued growth into a leader within the animal health industry and ability to manufacture several hundred products while maintaining ISO-9001:2008 and NASC certifications and cGMP and AAFCO compliance. Vets Plus is a member of the American Pet Products Association (APPA).
*Probios® is manufactured by Vets Plus, Inc. under license from Chr. Hansen. Probios® is a registered trademark of Chr. Hansen, Inc.