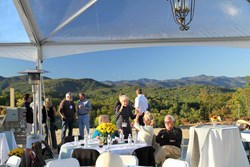 It is my opinion these lots are an incredible value and anyone fortunate enough to be able to take advantage of this opportunity will find it extremely rewarding for years to come," said Jerry Kidd, Motorcoach Industry Expert
Lake Toxaway, NC (PRWEB) October 30, 2013
Mountain Falls Luxury Motorcoach Resort will break ground on their new Clubhouse and surrounding amenities November 2013. Mountain Falls Partners announced the ground breaking at the Rally at the Ridge Music Festival held at The Ridge at Mountain Falls October 11-13, 2013, which boasts record attendance with an increase in participation of 25% over previous years. The Atlanta, GA based luxury residential and resort developer, The Peachtree Group, will build the clubhouse and has developed The Ridge at Mountain Falls, consisting of 85 lots and the resorts first Coach Cottage, which began in May 2013.
"We are very pleased to announce the ground breaking of the clubhouse and the amenities. This marked achievement is made possible by the overwhelming support of early purchasers of new lots on The Ridge at Mountain Falls. This rate of market acceptance of our product proves five star luxury in the motorcoach industry is a viable, untapped market that we are eager to satisfy," said Fritz Rybert, Co-founder of The Peachtree Group and Mountain Falls Partners.
The clubhouse and amenities will be shared with the existing neighborhood of 144 lots, for a combined Mountain Falls membership of 229 property owners. This development, located in the North Carolina Blue Ridge Mountains south of Asheville, NC in Lake Toxaway, will include 85 oversized lots with feature options including, terraces, outdoor kitchens, covered patios and custom designed 400 square foot coach cottages.
"The Ridge at Mountain Falls Luxury Motorcoach Resort is truly a unique place with breathtaking views that span for hundreds of miles. There is nothing like it and, given current land rights and restrictions, there will not be another like it in my lifetime. It is my opinion these lots are an incredible value and anyone fortunate enough to be able to take advantage of this opportunity will find it extremely rewarding for years to come," said Jerry Kidd, Motor Coach Industry Expert and President of Kidd RV Consulting.
Obtain more information by contacting Mountain Falls at (828) 966-9350 or by email to marie(at)mountain-falls(dot)com. Visit the Mountain Falls website at http://www.mountain-falls.com or their Facebook page Mountain Falls Luxury Motorcoach Resort. Mountain Falls is located at 20 Resorts Boulevard, Lake Toxaway, NC 28747
***Mountain Falls Partners, LLC is a North Carolina Company formed in 2012 for the marketing and development of luxury motor coach resorts. It is a collaboration of award winning partners with over 35 years of experience in their said area of expertise: architecture and design, community and luxury development, and luxury services and resort marketing.
***The Peachtree Group is based out of Atlanta, GA and Cashiers, NC. Formed in 1989, The Peachtree Group is among the Southeast's premiere residential builder/developers. The Peachtree Group has consistently been recognized for award winning development, site management, and construction of golf course and planned communities; high end custom and vacation homes; and unique in-town neighborhoods. We pride ourselves on our ability to create and optimally manage all facets of the development process, from site acquisition and entitlements, to financial modeling, market feasibility studies, design, construction and marketing.
***Kidd RV Resort Consulting specializes in working with RV developers and industry related partners to create a vision, articulate an idea, own the process and relentlessly pursue its execution with the goal of exceeding expectations through measureable results. Kidd RV Resort Consulting helps clients reach goals through extensive service capabilities including design and illustration, web solutions, advertising, public relations, brand consulting and strategic planning.