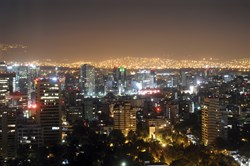 Mexico is another prime destination in Latin America for US and Canadian patients due to its convenient location and cost savings.
Bangkok, Thailand (PRWEB) October 29, 2013
Medical tourism portal myMEDholiday.com further expands its coverage of the most popular medical tourism destinations from around the world, to include Mexico in its directory of top countries. myMEDholiday.com offers the web's best source for medical tourism information, by giving direct access and contact to Hospitals, Specialty Clinics, Spas, and Medical Tourism Agencies at the top medical tourism destinations worldwide.
According to the Deloitte Center for Medical Solutions, Mexico is experiencing a surge in medical tourism with a high volume of American visitors, especially from the uninsured and underinsured that are seeking medical services because of its proximity to the United States. Privately-owned hospitals are being built with state of the art facilities to meet American demand and provide visitors with high quality care at affordable rates. In addition to the cost savings, which can be as high as fifty to seventy percent, some procedures that are new or not-yet approved in the U.S. are commonplace in Mexico.
"Mexico is experience a medical tourism surge as rising healthcare costs in the US are drawing in Americans to lower prices for everything from dental work to extensive surgeries", says Jidapa Julakasilp, myMEDholiday.com Co-founder and Managing Director. "Mexico is another prime destination in Latin America for US and Canadian patients due to its convenient location and cost savings. The Mexican government forecasts 650,000 inbound medical tourists by 2020, we want to make sure people have access to the right information in order to make the right choices."
Included in the Mexico section of the site, myMEDholiday offers information regarding Mexico medical tourism, travel information to Mexico, visa requirements, Mexican healthcare system information and a city guide (Mexico City). There are 17 hospitals, clinics and medical tourism agencies in Mexico listed on the site which can be accessed under the Destinations section or by clicking this link: http://www.mymedholiday.com/country/mexico
About The Company:
myMEDholiday.com is a comprehensive Medical Tourism portal and ratings site with offices in San Francisco, CA and Bangkok, Thailand. They provide direct access to detailed information about top medical and healthcare facilities around the world, giving patients the tools to locate, compare and contact medical travel or medical tourism providers quickly and conveniently. Their management team has over 15 years of experience in online travel and internet marketing, and has implemented a wide range of successful websites and e-marketing campaigns. Their aim is to work on behalf of patients and give them the best information available to make the right choices, while helping them find a safe, effective and cost-saving solution for their health and medical needs.
To learn more, please visit http://www.mymedholiday.com